Hikvision DS-2CD6425G0-20 2MP
Concealed camera for installation
Suitable for ATMs, covert monitoring, mobile solutions etc.
High resolution - Full HD 1920 * 1080p
Flexible - Connect to recorder or insert memory card
Audio - option for connecting microphone and speaker
Camera
 
Image Sensor
1/2.8′′ Progressive Scan CMOS
Min. Illumination
Color: 0.005 Lux @(F1.2, AGC ON), 0.014 Lux @(F2.0, AGC ON) B/W: 0.0001 Lux @(F1.2, AGC ON), 0.0003 Lux @(F2.0, AGC ON)
Shutter Speed
1 s to 1/100,000 s
Slow Shutter
Yes
Auto-Iris
No
Day & Night
Electronic
Digital Noise Reduction
3D DNR
WDR
120 dB
Angle Adjustment
Not support
Lens
 
Focal length
2.8 mm / 3.7 mm
Aperture
F2.5
FOV
2.8 mm @ F2.5, horizontal FOV 88.2°, vertical FOV:48.8°
3.7 mm @ F2.5, horizontal FOV 71°, vertical FOV:39.3°
Lens Mount
pin hole
Compression Standard
 
Video Compression
Main stream: H.265/H.264
Sub-stream: H.265/H.264/MJPEG
Third stream: H.265/H.264
H.264 Type
Baseline Profile/Main Profile/High Profile
H.264+
Main stream support.
H.265 Type
Main Profile
H.265+
Main stream support.
Video Bit Rate
32 Kbps to 16 Mbps
Audio Compression
G.711/G.722.1/G.726/MP2L2/PCM
Audio Bit Rate
64Kbps(G.711)/16Kbps(G.722.1)/16Kbps(G.726)/32-192Kbps(MP2L2)
Smart Feature-set
 
Behavior Analysis
Line crossing detection, intrusion detection, unattended baggage detection, object removal detection
Exception Detection
No
Face Detection
Yes
Region of Interest
1 fixed region for main stream and sub stream
Image
 
Max. Resolution
1920 × 1080
Main Stream
50Hz: 25fps (1920 × 1080, 1280 × 960, 1280 × 720)
60Hz: 30fps (1920 × 1080, 1280 × 960, 1280 × 720)
Sub Stream
50Hz: 25fps (640 × 480, 640 × 360, 320 × 240) 60Hz: 30fps (640 × 480, 640 × 360, 320 × 240)
Third Stream
50Hz: 1fps (1920 × 1080, 1280 × 720, 704 × 576, 640 × 480, 640 × 360, 352 × 288, 320 × 240)
60Hz: 1fps (1920 × 1080, 1280 × 720, 704 × 480, 640 × 480, 640 × 360, 352 × 240, 320 × 240)
Image Enhancement
BLC, 3D DNR
Image Setting
Rotate mode, saturation, brightness, contrast, sharpness, AGC, white balance adjustable by client software or web browser
Target Cropping
No
SVC
H.264 and H.265 encoding
Day/Night Switch
Day/Night/Auto/Schedule/ Triggered by Alarm In
Picture Overlay
No
Network
 
Network Storage
Micro SD/SDHC/SDXC card (128G), local storage and NAS (NFS,SMB/CIFS), ANR
Alarm Trigger
Motion detection, video tampering alarm, network disconnected, IP address conflict, illegal login, HDD full, HDD error
Protocols
TCP/IP, ICMP, HTTP, HTTPS, FTP, DHCP, DNS, DDNS, RTP, RTSP, RTCP, PPPoE, NTP, UPnP, SMTP, SNMP, IGMP, 802.1X, QoS, IPv6, UDP, Bonjour
General Function
One-key reset, anti-flicker, three streams, heartbeat, password protection, privacy mask, watermark, IP address filter
Firmware Version
V5.5.6
API
ONVIF (PROFILE S, PROFILE G), ISAPI
Simultaneous Live View
Up to 6 channels
User/Host
Up to 32 users 3 levels: Administrator, Operator and User
Client
iVMS-4200, iVMS-4500, iVMS-5200, Hik-Connect
Web Browser
IE8+, Chrome31.0-44, Firefox30.0-51, Safari8.0+
Interface
 
Audio
1 input (line in), 1 output (line out), mono
Alarm
1 input, 1 output (up to 24 VAC, 1A or 110 VAC, 500mA)
Communication Interface
1 RJ45 10M/100M Ethernet port 1 VIN port 1 RS-485
On-board storage
Built-in micro SD/SDHC/SDXC slot, up to 128 GB
Reset Button
Yes
Audio
 
Environment Noise Filtering
Yes
Audio Sampling Rate
Max. 48kHz
General
 
Operating Conditions
-10 °C to 40 °C (14 °F to 104 °F), humidity: 5% to 95% (non-condensing)
Power Supply
12 VDC ± 20%, two-core terminal block, PoE: (802.3af, class 2)
PowerConsumptionand Current
12 VDC ± 20%, 0.25 A, max. 3 W PoE: (802.3af, 36V-57V), 0.2A to 0.1A, Max: 3.5W
Material
Camera: Plastic Lens: Metal
Dimensions
Camera: 77.5 × 71 × 33.5 mm (3.1" × 2.8" × 1.3") L10: Ø26 × 32.7 mm (Ø1.0" × 1.3") L20: 37 × 26 × 15.1 mm (1.6" × 1.0" × 0.6") L30: Ø26 × 51.4 mm (Ø1.0" × 2.0")
About the concept
The camera for built-in and covert surveillance. Work just like any other Hikvision camera in terms of operation. The camera is divided into 2 components, a lens (the camera) and a controller box (here network and power are inserted if you do not use PoE, MikroSD card, etc.), between the two is pulled a coax cable, which is included.
About the camera
The camera is connected to a recorder in the same way as other Hikvision cameras. When it is connected to the network either with a single network cable connected to a PoE Switch or just 12VDC and then a network cable to the router / computer, you will find the camera on the network with the search tool SADP or directly from your recorder. The camera has many smart functions, relay inputs and outputs, included tape for mounting and brackets for permanent mounting, etc. and it makes it ideal for solving small discrete tasks. One can also use it as a completely conventional camera that just does not make much sense of itself.
About the lens
There are 3 types of lenses, they can be replaced / exchanged with each other, but only one lens is included when you order - which you can see in the model name. Note that there are no IR diodes in the lenses, so lighting must come from externally if it is too dark. Cameras like this are usually used indoors where it is natural to have lights on - or outdoors in combination with sensor controlled light.
DS-2CD6425G0- 20 2MP is e.g. the camera in the middle.
DS-2CD6425G0- 10 2MP is e.g. the camera on the right.
About the controller
The controller is itself the "brain" of the camera, here you connect network, power (network and power come via the same cable v. PoE). You can also connect external things such as. alarm system, garage door, magnetic switch etc., microSD card supported up to 256GB. In addition to alarm inputs and outputs, there are also audio inputs and outputs so you can connect an external microphone or speaker.
The included bracket makes it easy to mount the controller in an easy and professional way.
About alarm in- and out
Alarm in can be used to make the equipment respond to signals from other devices or systems.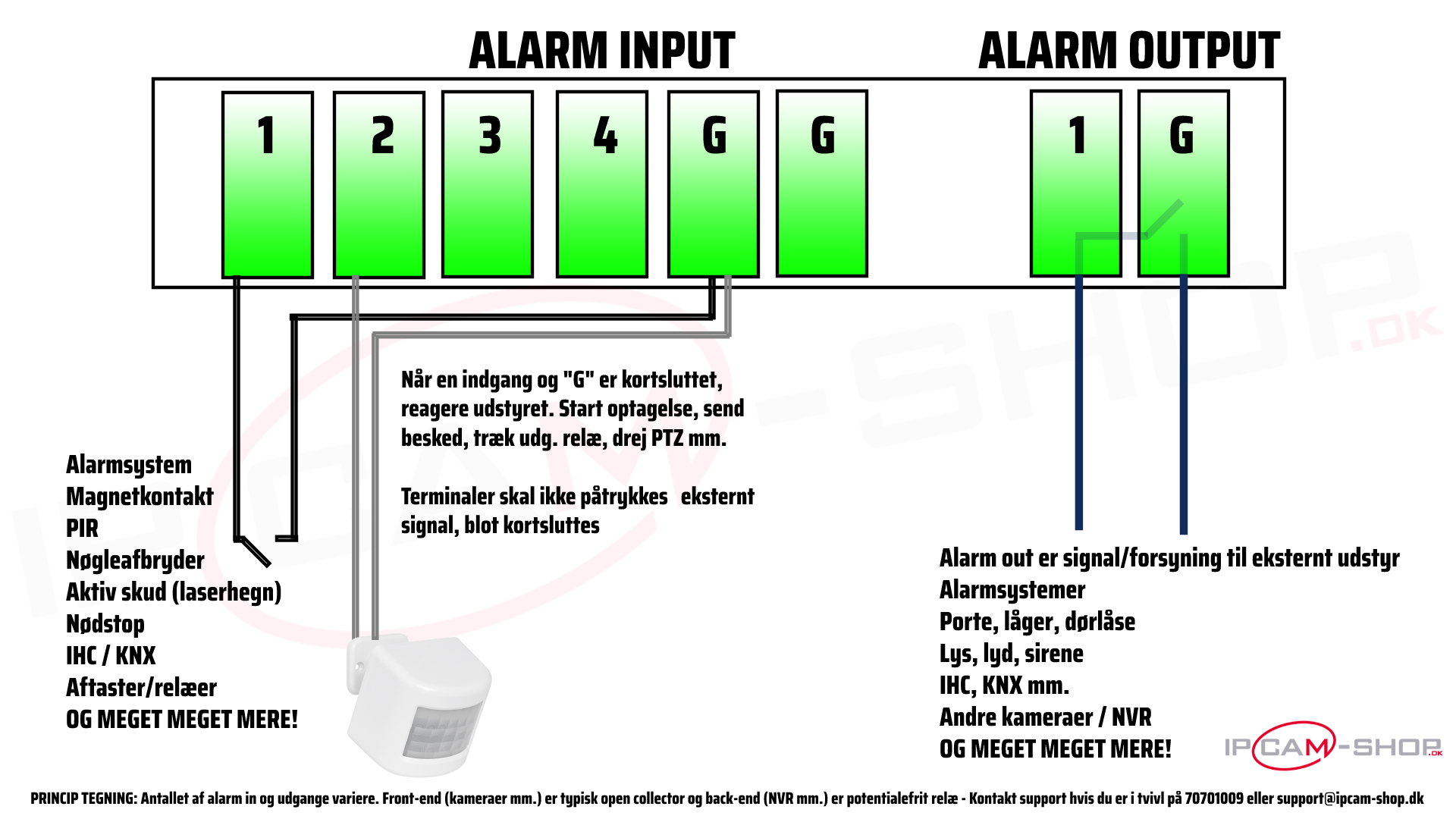 For more information, please visit this product's webpage.