Der findes et hav af forskellige aktører på nettet der sælger videoovervågning.
Det fås i vidt forskellige prisklasser, forskellige kvaliteter og forskellige udformninger. Nogle kameraer er kablede og nogle er trådløse. Nogle har fast brændvidde og nogen variabel, måske med motorzoom.
Nogle kører på batteri og andre forsynes med PoE eller en strømforsyning.
Der findes kameraer med nightvision, noget der hedder Powered by Darkfighter, Nogle kan se i farve om natten og slet ikke har IR. Nogle kan læse nummerplader, nogen kan give alarm ved indtrængen, nogle giver dårlige billeder om natten. Nogle kan sidde udendørs men laver dårlige billeder. Nogle er i 8MP men giver de så bedre billeder en 4MP? Og hvad er så det bedste til netop dit behov?
Hvad er og hvad kan videoovervågning i det simple setup?
Videoovervågning er præventivt og dokumenterende, og til tider alarmerende.
Ovenstående er det videoovervågning bruges til i 90 % af tilfældene. Herunder kan du se hvordan de fleste anlæg kables.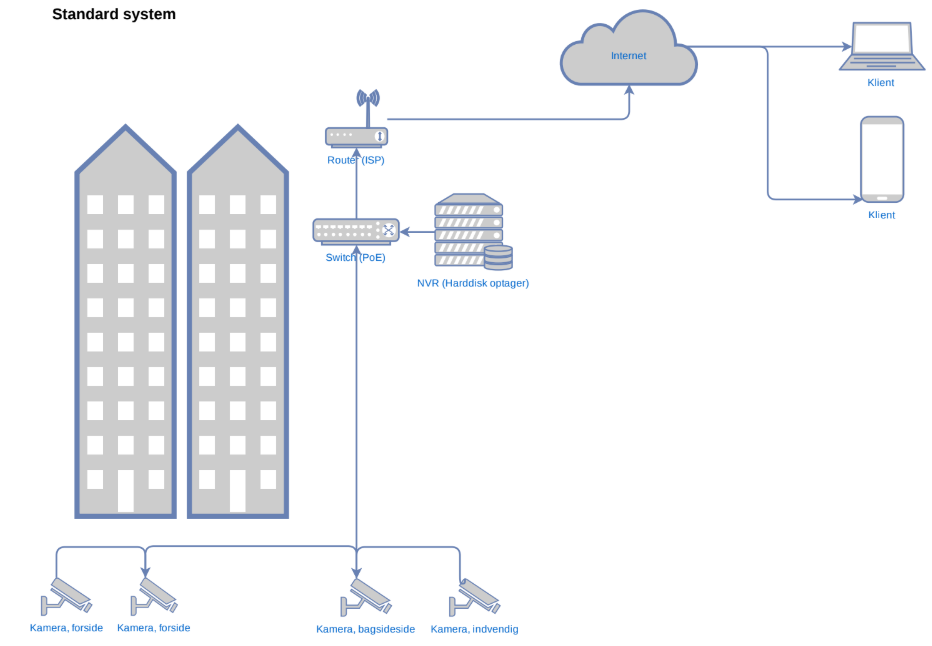 Vi anbefaler
Vi anbefaler stort set altid vores 23xx serie til udendørs overvågning. Det gør vi fordi man ikke bør sætte dome kameraer op udendørs. Dome kameraer skal være helt rene før de levere gode nattebilleder, og kan det undgås at disse sidder udendørs skal man klart gøre dette. (Vi sælger sikring og ikke æstetik)
Vores 23xx kameraer fremgår af dette link: https://ipcam-shop.dk/turret-234/
Netværksoptagere anbefaler vi vores serie uden PoE indbygget fordi det giver os bedre mulighed for at hjælpe dig med fjernsupport såfremt det er nødvendigt. Det giver også en meget mere fleksibel løsning på længere sigt.
Disse fås i forskellige størrelser men vores toprunner er vores 4-kanals netværksoptager uden PoE:
Husk at der skal en harddisk i systemet. Denne definere hvor lang tid der gemmes optagelser.
Her er der link til vores kit med vores anbefaling til en god, stabil og knivskarp løsning:
System med 2-kameraer: Pakke 2 Kamera
System med 4-kameraer: Pakke 4 Kamera
System med 6-kameraer: Pakke 6 Kamera
System med 8-Kameraer: Pakke 8 Kamera
Hikvisions prisvenlige løsning sælger rigtig godt hos os, hvor du kan få en hel pakke med det hele til en rigtig god pris:
Opbygningen af videoovervågning
Videoovervågning består af et antal kameraer samt en lagringsenhed. Disse kan tilsluttes dit netværk således at du kan følge med på telefonen og se live billeder, se optagelser og f.eks.modtage push notifikationer i Appen. Systemet er brugervenligt og interface kan indstilles til dansk.
Videoovervågning kan deles op i Analog og IP-overvågning. Analoge kameraer var dem man i gamle dage havde som kørte på BNC kabler. Disse er i dag relativt lave i pris, men kræver også man trækker en gammel kabeltype. Der hvor IP overvågning kommer til sin ret er når folk vil opgraderer deres videoovervågning til noget mere tidssvarende. Mere om det senere.
Trådløse videoovervågning
Der findes flere forskellige trådløse overvågningsløsninger i dag, fordi de er nemme og hurtige at sætte op. Dog er der faldgrupper ved trådløst overvågning:
Det er relativt ustabilt - Lige som alt andet trådløst kan det være ustabilt hvis ikke signalet er stærkt nok eller der kommer signalforstyrrelser fra ekstern kilde
Det kan Jammes så du mister forbindelsen til dine kameraer ved indbrud
Du kan opleve at kameraer falder ud og de ikke kommer på af sig selv igen
Vi anser os selv som nogle af de mest professionelle i markedet, og vores klare anbefaling at få trukket de kabler da det giver en langt bedre løsning. Alle Hikvisions kameraer køre PoE (Power Over Ethernet) Det vil sige at kameraerne både får strøm og data igennem ét netværkskabel.
Ønsker du stadig trådløse overvågning kan du se de løsninger vi sælger her:
Kameraerne
Kameraerne kommer i dag i kvaliteter fra HD til 4K opløsning, de kommer som trådløse eller trådførte og i et hav af forskellige former for housing.
Opløsning
Vi anbefaler primært at køre med 4-6 MP i opløsning. Her får du gode billeder om dagen og om natten og du får billeder der ikke fylder ekstraordinært meget på din server. Et 8MP kamera kommer primært til sin ret i en guldsmedebutik eller indendørs hvor de helt små detaljer er vigtige. Et 8MP kamera der sidder udendørs, vil alt andet lige give et dårligere billede end et 4MP kamera om natten.
Housing
Rigtig mange steder ser vi at folk har Dome kameraer siddende udendørs. Det er langt fra optimalt, da disse kameraer altid skal være helt rene før de kan give et godt billede.
Derfor anbefaler vi EXIR kameraer til udendørs brug, fordi linsen er adskilt fra Nightvision dioden så man dermed ikke løber ind i samme problem som med dome.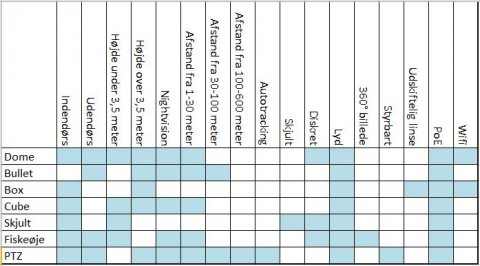 Du kan se hvad der sker med et udendørs dome kamera der ikke er helt ren her
Et af vores bestseller EXIR kameraer er Hikvision 2345 eller deres 2365
DS-2CD2345 i 4MP: 2345-I 2.8mm
DS-2CD2365 i 6MP: 2365-I 2.8mm
Linser
Der findes kameraer med forskellige brændvidder Brænvidden definere hvor fokuset for kameraet skal være, hvis et træ 20 meter væk skal være i fokus skal man have et 12mm kamera, men skal man have fokus 0,6 meter fra kameraet er 2,8mm at foretrække. Er du i tvivl om hvad du skal bruge kan man vælge et kamera med justerbarlinse, men her springer prisen altså med en 1.000 kr. fordi det er markant dyrere at levere et kamera med justerbarlinse. Så hvis man projektere sin opgave rigtigt fra starten og vælger den rigtige linsetype, kan man spare lidt her. De mest anvendte linsetyper er 2,8, 4, 6, 8 og 12mm.
Hvor bredt et linse ser er forskelligt fra typer af linser, men dette giver et nogenlunde billede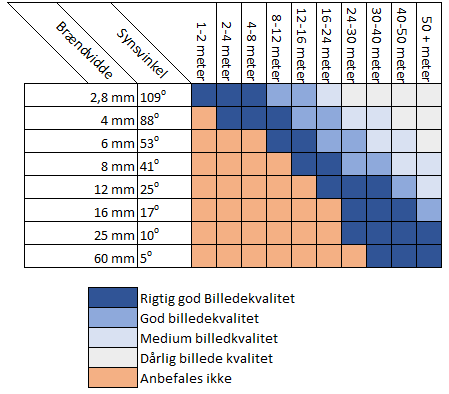 Nightvision
Nightvision gør at kameraet kan se om natten og det tænder når kameraet ikke længere mener det kan se længere. Vælger du et kamera med Powered By Darkfighter vil du få et kamera som kan se i farver længere tid ud på døgnet inden det skifter over til nightvision.
Husk at om natten med nightvision så har kameraer svært ved at se nummerplader, fordi en nummerplade er en refleks som lyser om når man lyser på det.
Nummerpladekameraer
Vi har mulighed for at registrerer nummerplader med vores ANPR kameraer. Disse etableres udelukkende med det formål at registrerer nummerplader på biler der kører forbi. Informationen kameraet modtager kan så bruges til at åbne en garageport eller en låge såfremt ANPR kameraet har fået en liste over nummerplader der må komme ind eller ud.
Vi har ligeledes mulighed for at give en alarm hvis kameraet registrerer svigerfamiliens nummerplade, så du kan nå at gemme dig.
Vil du vide mere om kameraer, så se vores video her, hvor vi gennemgår 12 forskellige kameraer i en video i vores showroom: Youtube video
Optageenheder
Et kamera har brug for et sted at optage og derfor vælger de fleste med en løsning på over 2 kameraer at tilkøbe en Netværksoptager, men man kan også bruge SD-kort.
Netværksoptager
En netværksoptager står for at administrere signalet fra kameraerne og lagre optagelserne på en harddisk der sættes i Netværksoptageren.
Netværksoptagerne kommer i 4, 8, 16, 32 osv. kanalers optagere og heri skal du så selv vurderer om du vil have 1, 2, 3, eller 4TB harddisk i din netværksoptager.
Vi anbefaler denne 4-kanals optager, men husk altid at have plads til at udvide i fremtiden:
Og her ses en pakke med den 4-kanalsoptager vi anbefaler samt 2 x 2345 Hikvision kameraer: Pakkke med 2 kameraer
Der findes ligeledes netværksoptagere med alarm ind og udgange således at du kan styre andre enheder i dit hjem/virksomhed med informationer fra systemet.
SD-KORT
En anden mulighed er at sætte et SD kort i dit kameraer. Dermed sidder lagringsenheden i kameraet. Dette er en fordel hvis du fx kun har et kamera og ikke ønsker at tilkøbe en Netværksoptager for kun det ene kamera. Bemærk dog at SD kort som regel kun virker i 1 år med mindre du vælger 24/7 optagning.
Du kan se vores SD kort her: Link
Cloud baseret
Det er også muligt at få dit udstyr til at lagre i clouden. Dette koster en cloud enhed som administrerer kommunikationen med clouden og hertil koster det et abonnement af omkring 75 kr. pr. måned pr. kameraer for 3 dages optagelser.