Forbind dine Uniview kameraer og optager til dit Ajax alarmsystem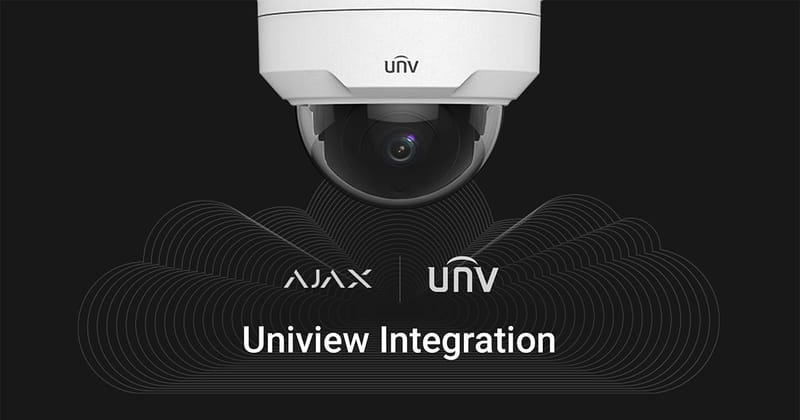 Uniview er en af de mest populære overvågningssystemer på markedet og en af de største producenter i verden og du kan forbinde dem direkte til dit AJAX system
Da AJAX og Uniview begge er nogle af de største spillere på markedet, har de valgt at gøre deres systemer gensidigt kompatible. De har endda gjort det på en måde der gør det super nemt for dig som bruger, så du ikke skal have en ingeniøreksamen for at få det til at virke. Når kameraerne er forbundet til dig AJAX system kan du tilknytte dem til de rum de sidder i eller omkring.
Hvorfor forbinde videoovervågning til alarmsystemet?
De fleste videoovervågningsystemer har allerede deres egen dedikerede APP til, at vise kameraerne, spole tilbage, opsætte VCA regler og meget mere. Men forestil dig, at når alarmen starter og sekunderne tæller, at du ikke behøver at skifte APP, men får vist et billede der er knyttet direkte til området, hvor detektorene er udløst. Du kan endda tilføje en hel optager direkte og så skifte mellem kameraerne i AJAX APPén. Det er squ da smart :)
Denne funktion er ikke tiltænkt som en erstatning for den originale APP til kamerasystemet, men som et supplement i det daglige brug, så man kan få et hurtigt overblik fra området hvor alarmen er startet, uden at skfite APP. 
Hvordan virker det?
Ved at bruge AJAX APP, kan du både styre din alarm, se din overvågning og tilknytte kameraer til områder.
Det er meget nemt til forbinde dit overvågning til AJAX, du skal bare følge disse skridt - og hvis det driller, kan du ringe til os på 70701009.
1. Tryk på "menu" knappen i AJAX APP, vælg videoovervågning og log ind på din konto.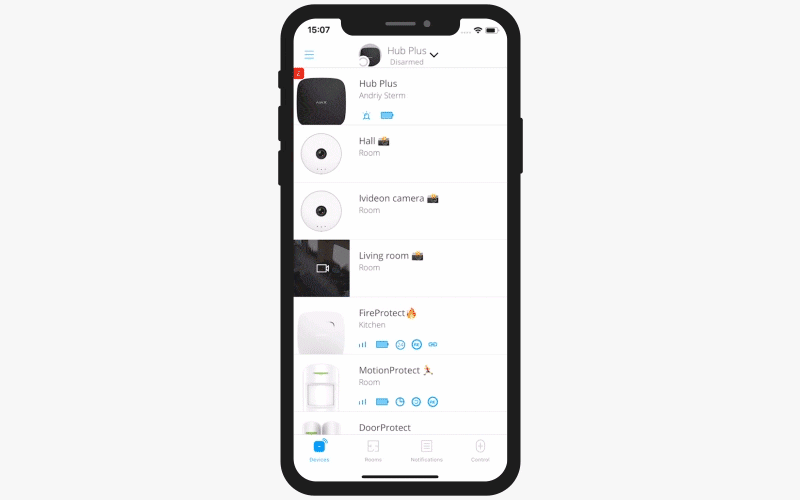 2. Vælg hvilke kameraer eller optager du vil have adgang til.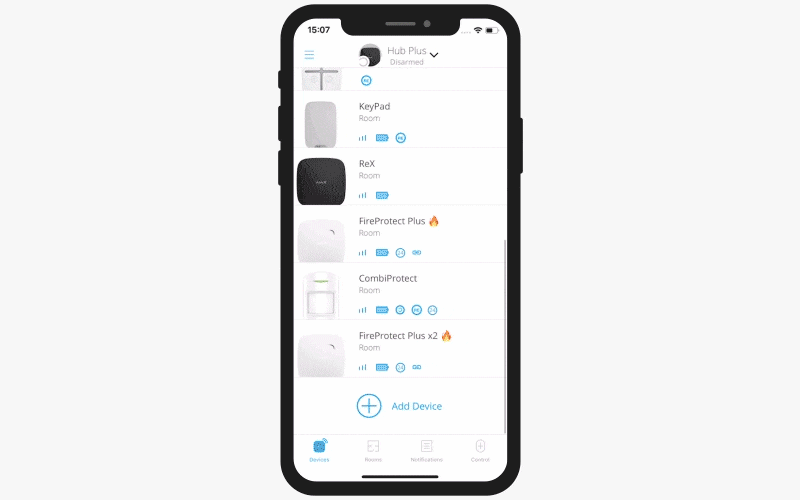 Husk: For at kunne få lov til at se billederne fra kameraer, skal du gå ind i Hub'ens indstillinger, vælger de brugere der må se billederne og så give dem tilladelse til de kameraer de må kunne se.
Hvor mange kameraer kan jeg forbinde til min AJAX alarm?
Du kan forbinde op til 10 kameraer og videooptagere til AJAX Hub, op til 25 til Hub 2, op til 50 enheder til Hub Plus, og op til 100 enheder til Hub 2 Plus. Har du brug for mere end 100 kameraer på dit system, så skal du bare tilføje harddiskoptageren i stedet for det enkelte kamera, da en harddiskoptager kun tager en enkelt plads, selvom du stadig kan skifte rundt mellem de kameraer der er forbundet til optageren.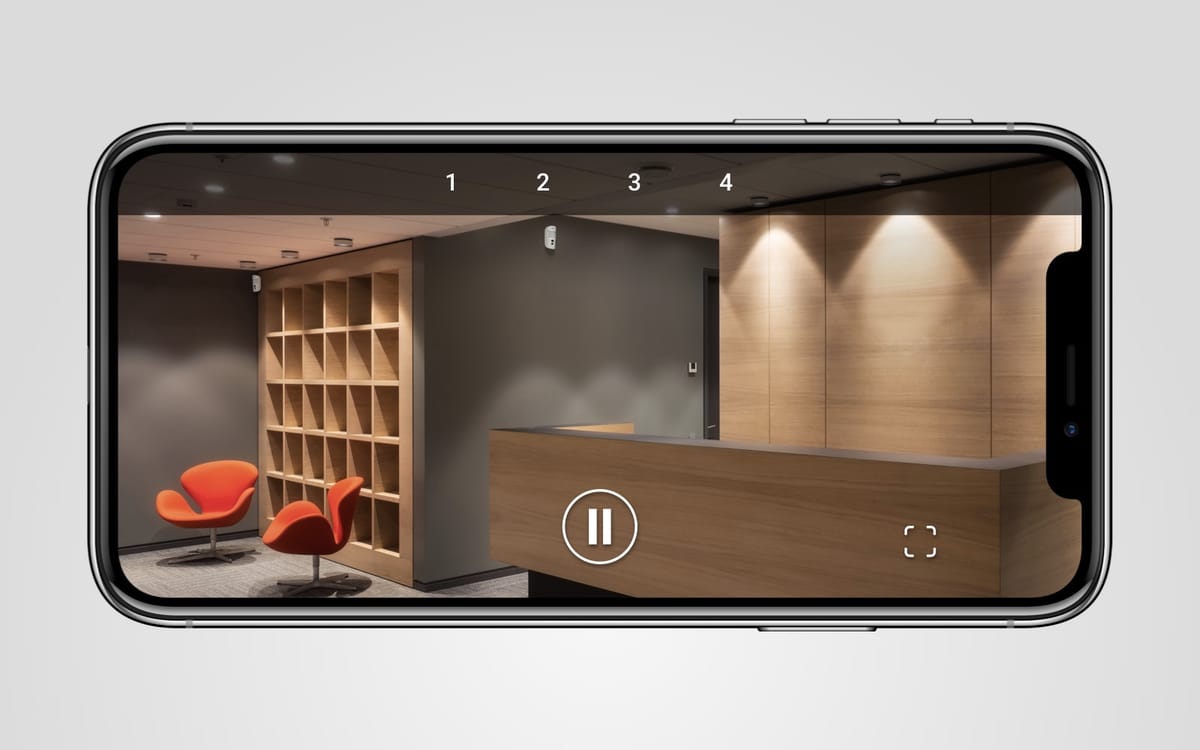 Kan alle mine brugere se alle kameraerne der er tilknyttet systemet?
Ja og nej, forstået på den måde, at det er anlægsejer/administrator der styrer hvad den enkelte bruger kan se. Det betyder også, at når kameraerne er tilføjet til AJAX, vil ingen kunne se billederne før der er givet adgang. Det gør man under den respektive bruger i brugermenuen under Hub-indstillingerne.
Hvordan opbevare AJAX dine personlige informationer?
Videobillederne eller "stream" som det hedder i fagsprog krypteres af AJAX for maksimal beskyttelse af dit privat liv og intet gemmes eller lagres hos AJAX. Det fungere således; først bliver streamen sendt fra kameraet eller optageren sendt direkte til Univiews cloud. Derefter bliver streamen omdirigeret til AJAX APP hvor du vil få den presenteret direkte på skærmen. Kun du og de brugere du har givet adgang til, kan få lov til at se den krypterede stream.

Bemærk at AJAX APP ikke oppbevare dine kamera- og Uniview cloudinformationer, så hvis du skifter telefon, kan det være nødvendigt at indtaste dit brugernavn og adgangskode igen.