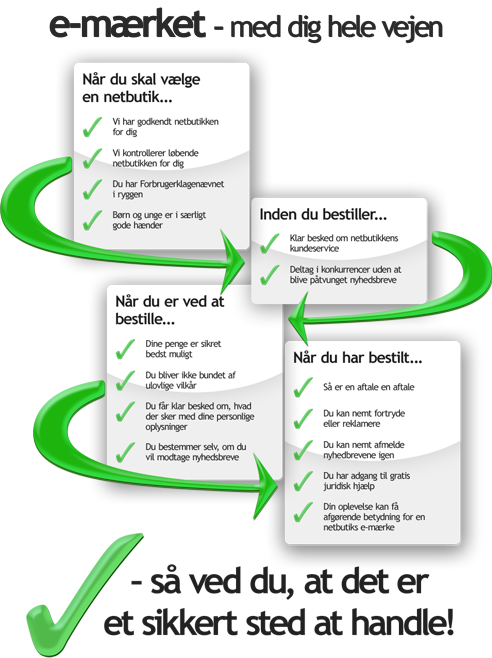 e-mærkets unique buyer protection: Step-by-step
When you shop at an e-branded webshop, you are automatically covered by the e-brand's unique buyer protection.
Buyer protection is FREE for you as a customer, and we help with all cases regardless of amount!
Buyer protection covers
• Free and efficient case processing (average 30 days)
• Mediation and dialogue between you and the e-branded webshop
• Financial security of up to DKK 10,000 per d physical goods! 
Buyer protection covers up to 2 years after the item is delivered!
Financial security of 10,000 DKK
The financial security covers if you have purchased a physical item, and we assess that the webshop has not lived up to its obligations as an e-brand certified in relation to;
• Delevery
• Invoicing as well as withdrawal and refund
• Return (including impairment)
• Complaint
• Deficiency
• Compliance with decisions of courts and appeals boards
Covered for 2 years
The buyer protection covers you as a customer, up to 2 years after the item has been delivered, regardless of whether the webshop is subsequently no longer e-brand certified.
Here's how you do it
To get help, you must, within 60 days after your claim has arisen, create a case via our case processing form (Click the Create case button on this page). Here you have the opportunity to upload the relevant documents that our lawyers need to be able to process your case.
This is not covered by financial security
Financial losses that you can get covered elsewhere, e.g. via indsigelsesordningen. 
In addition, it does not cover if the webshop goes bankrupt or closes, or in connection with product liability, positive performance interest, indirect losses, interest, coverage of non-financial losses or in case of price error cases.
Bankruptcy Guidance
Should it happen against expectations that the webshop closes or goes bankrupt, our lawyers are ready to help and guide you in relation to your rights and the dialogue with the trustee. However, your financial loss is not covered.
Offer of payment
The amount of financial compensation that the e-brand's lawyers arrive at in the processing of your case must be understood solely as an offer to you. You can choose not to accept the offer and instead take the matter to a court or an appeals board. If, on the other hand, you choose to accept the offer, you waive the opportunity to proceed with the case.
e-mærkets obligations
e-mærket undertakes to ensure that all cases of the same type are treated equally.