There are a sea of different actors on the web selling video surveillance.
It is available in vastly different price ranges, different qualities and different designs. Some cameras are wired and some are wireless. Some have fixed focal length and some variable, perhaps with motor zoom.
Some run on battery and others are supplied with PoE or a power supply.
There are cameras with night vision, something called Powered by Darkfighter, Some can see in color at night and do not have IR at all. Some can read license plates, some can give alarm at the intrusion, some give bad pictures at night. Some may sit outdoors but make bad pictures. Some are in 8MP but do they give better images than 4MP? And what is the best thing for your needs?
What is and what can video surveillance in the simple setup?
Video surveillance is preventative and documentary, and at times alarming.
The above is what video surveillance is used for in 90% of cases. Below you can see how most systems are wired.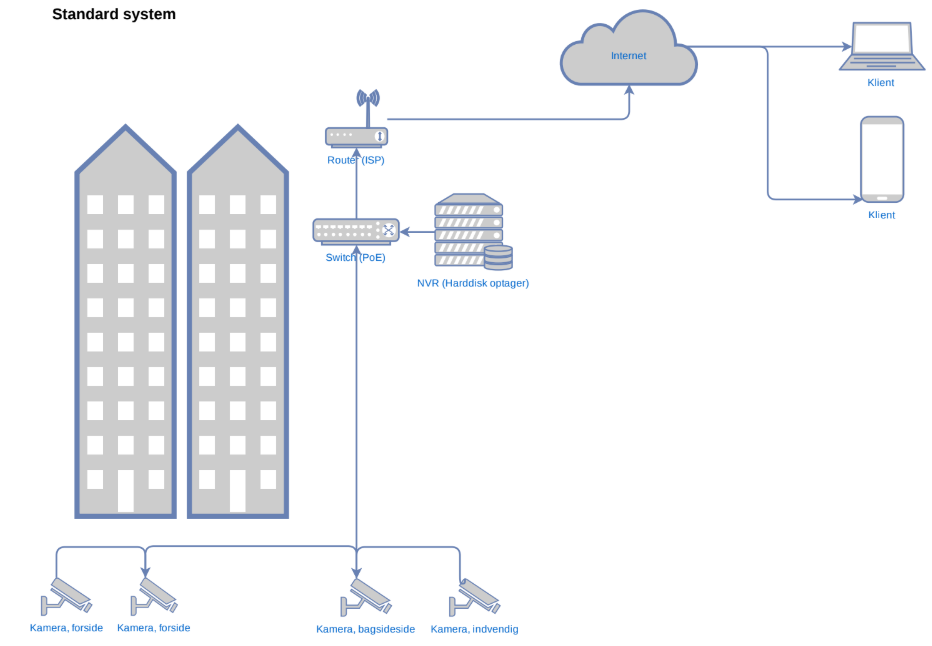 We recommend
We almost always recommend our 23xx series for outdoor monitoring. We do this because one should not set up dome cameras outdoors. Dome cameras must be completely clean before they deliver good night pictures, and if it is possible to avoid these sitting outdoors, you must clearly do this. (We sell fuses and not aesthetics)
Our 23xx cameras can be found at this link: https://ipcam-shop.dk/turret-234/
We recommend our network recorders without PoE built-in because it gives us a better opportunity to help you with remote support if necessary. It also provides a much more flexible solution in the long run.
These are available in different sizes but our top runner is our 4-channel network recorder without PoE:
Remember that a hard drive is required in the system. This defines how long recordings are stored.
Here is a link to our kit with our recommendation for a good, stable and razor-sharp solution:
Our Complete Systems
Hikvision's affordable solution sells really well with us, where you can get a whole package with it all at a really good price:
The structure of video surveillance
Video surveillance consists of a number of cameras as well as a storage device. These can be connected to your network so that you can follow on the phone and see live pictures, view recordings and, for example, receive push notifications in the App. The system is user-friendly and the interface can be set to Danish.
Video surveillance can be divided into Analog and IP surveillance. Analog cameras were the ones in the old days that ran on BNC cables. These are today relatively low in price, but also require one to pull an old cable type. Where IP surveillance comes into its own is when people want to upgrade their video surveillance to something more up-to-date. More on that later.
Wireless video surveillance
There are several different wireless monitoring solutions available today because they are easy and quick to set up. However, there are fall groups in wireless monitoring:
It is relatively unstable - Like everything else wireless it can be unstable if the signal is not strong enough or there is a signal interference from an external source
It can Jammes so you lose the connection to your cameras in case of burglary
You may find that cameras fall out and do not come on by themselves again
We consider ourselves to be some of the most professional in the market, and our clear recommendation is to have the cables routed as it provides a much better solution. All Hikvision's cameras run PoE (Power Over Ethernet). This means that the cameras receive both power and data through one network cable.
If you still want wireless monitoring, you can see the solutions we sell here: https://ipcam-shop.dk/wifi-170/
The cameras
Today, the cameras come in qualities from HD to 4K resolution, they come as wireless or wired and in a sea of different types of housing.
Resolution
We primarily recommend running with 4-6 MP in resolution. Here you get good pictures during the day and at night and you get pictures that do not take up an extraordinary amount of space on your server. An 8MP camera comes into its own primarily in a jewelery shop or indoors where the smallest details are important. An 8MP camera that sits outdoors will, all other things being equal, give a worse image than a 4MP camera at night.
Housing
In many places we see that people have Dome cameras sitting outdoors. This is far from optimal, as these cameras must always be completely clean before they can give a good picture.
Therefore, we recommend EXIR cameras for outdoor use, because the lens is separated from the Nightvision diode so you do not run into the same problem as with the dome.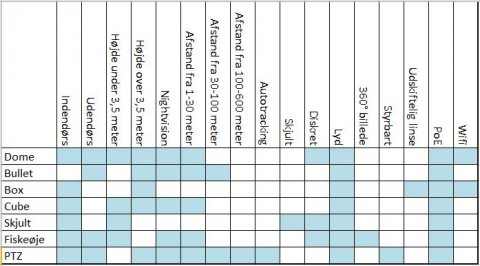 You can see what happens with an outdoor dome camera that is not completely clean her
Se our EXIR cameras: here
Lenses
There are cameras with different focal lengths. The focal length defines where the focus for the camera should be, if a tree 20 meters away is to be in focus, you must have a 12mm camera, but if you have a focus 0.6 meters from the camera, 2.8mm is preferable. If you are in doubt about what you need, you can choose a camera with an adjustable lens, but here the price jumps by DKK 1,000 because it is significantly more expensive to deliver a camera with an adjustable lens. So if you project your task right from the start and choose the right lens type, you can save a little here. The most commonly used lens types are 2.8, 4, 6, 8 and 12mm.
How wide a lens looks is different from types of lenses, but this gives a fair picture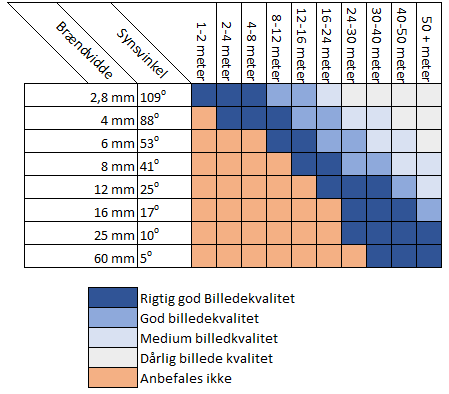 Nightvision
Nightvision allows the camera to see at night and it turns on when the camera no longer thinks it can see anymore. If you choose a camera with Powered By Darkfighter, you will get a camera that can see in colors for a longer period of the day before it switches to night vision.
Remember that at night with night vision, cameras have a hard time seeing license plates, because a license plate is a reflector that lights up when you light it.
License plate cameras
We have the option of registering license plates with our ANPR cameras. These are established solely for the purpose of registering number plates on passing cars. The information the camera receives can then be used to open a garage door or a door if the ANPR camera has been given a list of number plates that may enter or exit.
We also have the option to give an alarm if the camera detects the in-laws' number plate, so you can hide.
If you want to know more about cameras, watch our video here, where we review 12 different cameras in a video in our showroom:Youtube video
Recording devices
A camera needs a place to record and therefore most people with a solution of over 2 cameras choose to buy a Network Recorder, but you can also use SD card.
Network recorder (NVR)
A network recorder manages the signal from the cameras and stores the recordings on a hard disk inserted in the network recorder.
The network recorders come in 4, 8, 16, 32, etc. channel recorders and in this you must then assess for yourself whether you want a 1, 2, 3, or 4TB hard disk in your network recorder.
We recommend this 4-channel recorder, but always remember to have room to expand in the future:
And here is a package with the 4-channel recorder we recommend and 2 x 2345 Hikvision cameras: Pakkke med 2 kameraer
There are also network recorders with alarm inputs and outputs so that you can control other devices in your home / business with information from the system.
SD-CARD
Another option is to put an SD card in your cameras. This puts the storage device in the camera. This is an advantage if, for example, you only have one camera and do not want to purchase a Network Recorder for only one camera. Note, however, that SD cards usually only work for 1 year unless you choose 24/7 recording.
You can see our SD card here: Link
Cloud based
It is also possible to have your equipment stored in the cloud. This costs a cloud device which manages the communication with the cloud and for this it costs a subscription of around DKK 75 per. month per. cameras for 3 days of shooting.