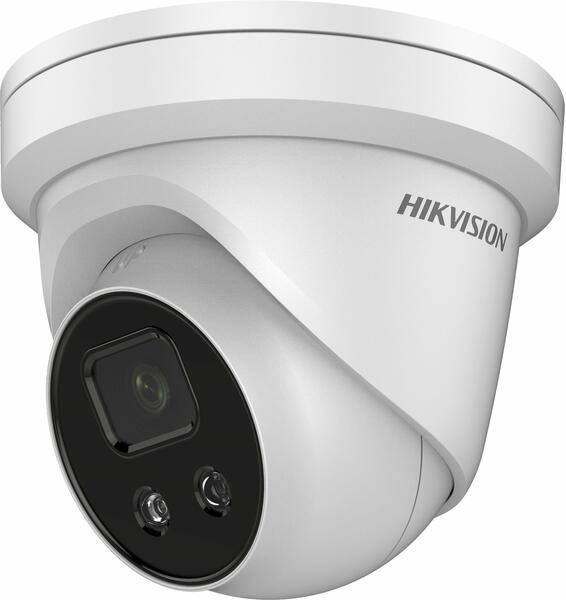 Produktanmeldelse: DS-2CD2346G2-I
af RM – 10. januar 2020
Hikvision's Acusense 4MP kamera, som vi har til test i dag, indeholder Darkfighter teknologien, som gør billedet knivskarpt ved meget dårlig nattebelysning samt Acusense algoritmen der kan identificere biler, mennesker og frasortere objekter, som ikke er relevante.
Indhold
Efter udpakning af enheden, ser vi de velkendte materialer, som Hikvision altid vedlægger i deres produkter.
Kassen indeholder

1 x pose med skruer
1 x pose med umbraco nøgle samt pudseklud
1 x pose med manual
1 x pose med tætningsmaterialer til når du skal tilslutte netværks kablet, så det er vandtæt op til enheden
1 x monteringsmærkat
Installationen af selve kameraet, er ret ligetil. Hikvision vedlægger nemlig en boreskabelon, som man holder mod overfladen, hvor man ønsker at montere kameraet. Derefter borer man igennem de relevante positioner, som er markeret på klistermærket. Når enheden er placeret på den lokation, som man ønsker og kameraet er justeret korrekt ind, fastgøres sikkerhedsskruen, så enheden ikke kan drejes mere. Ønsker man og installere et SD-Kort i enheden kan man løsne de to sikkerhedsskuer, som sidder over linsen og indsætte kortet, torx skruerne spændes til igen. Til sidst klikkes det hvide runde dæksel på kameraet igen og enheden er nu klar til konfiguration.
Når kameraet er installeret og blevet tilsluttet en PoE (Power over Ethernet) kablet netværksforbindelse, er konfiguration af kameraet ligetil. Man skal blot starte SADP (Search Active Devices Protocol) værktøjet fra Hikvisions hjemmeside. Efter SADP-konfigurationen, kan man nu indtaste ip-adressen på enheden i en webbrowser for, at komme til login siden og forsætte installationen af kameraet.
Kameraet har en omfattende liste af konfigurationsindstillinger. Herunder ting som meddelelsesudløsere, ansigtsdetektering, bevægelsesdetektering (baseret på pixelændringer, der kan opsættes med hensyn til detekteringsområde og følsomhed) såvel som multi-streams (én strøm kan være i meget høj kvalitet til optagelse af video på din NVR (Network Video Recorder), mens en anden strøm kan være af lavere kvalitet, for at muliggøre hurtigere adgang fra mobilenheder).
Acusense generation 2.0:
Inden vi dykker helt ned i kameraets specifikationer, så vil jeg gerne lige belyse, at det som gør denne enhed yderst interessant er, at den kommer med Acusense teknologi indbygget i sig. Acusense er Hikvisions nye deep learning algoritme, som gør det muligt og skelne imellem mennesker, biler og objekter, som ikke er relevante. Denne vi har til test i dag, benytter sig af Acusense generation 2.0 algoritmen, som øger enhedens falsk alarm reduktionsevne til 98% nøjagtighed.
Specifikationer:
Modellen kan købes i forskellige linse versioner - muligheder inkludere 2.8, 4 og 6mm, med en blænde på F1.4.
2.8mm version, som vi bruger i denne test, har et vandret synsfelt på 103° og et lodret synsfelt på 50°. Enhedens størrelse er 138.3mm x 126.3mm, vejer 770g og har en arbejdstemperatur på -30 til 60C. Enhedens kommer ligeledes med en 1/2.7" Progressive Scan CMOS der giver os 2688 x 1520 pixels ved 25fps, 120dB WDR, Darkfighter teknologi, H.265+, H.265, H.264+ og H.264 kompression. Modellen understøtter ligeledes micro SD/SDHC/SDXC op til 256GB.
Event baseret advarsel:
Jeg vil i denne test fokusere på Acusense teknologien og teste, hvor god den er til og filtrerer uinteressante objekter fra, som f.eks en bold og se om den kan alarmere på f.eks interessante objekter, såsom mennesker. I videoen nedenfor, har jeg sat en crossing line, hvor den skal give alarm begge veje over stregen. Der er ikke sat nogen min. eller max. kasser samt der er flueben i, at jeg kun er interesseret i mennesker. Bolden, som bruges i testen kan også ses som et blad der flyver eller en mus, som bevæger sig. Havde det ikke været et Acusense kamera, så var bolden blevet reg. som en alarm.
Dagsbillede:
Det regnede selvfølgelig, under dagens test samt himlen var overskyet, men det forhindrede ikke kameraet i og gengive et super skarpt dagsbillede. Farver, kontraster og skarphed går op i en højere enhed - alt ser bare godt ud og det er "out-of-the-box" konfiguration, som vi ser her.
Grundet valget af 2.8mm og dens store brændvidde, bliver de fine detaljer længere væk ikke så skarpe, som hvis jeg f.eks. havde valgt en 6-12mm og fokuseret på plankeværket/muren. Men kommer de først over muren og træder ind på grunden, så får jeg et klart ansigtsbillede. Jeg vil hellere have fokus på vindue området samt få et godt billede af personen, når de kommer tættere på.
Nattebillede:
Darkfighteren med sine 4MP gør det super godt, hvis ikke perfekt om natten. Den får alle detaljer med, samt oplyser hele området, som man gerne vil holde øje med. Enhedens IR, skyder perfekt 30 meter ud og belyser selv den bagerste murstensvæg nemt.
Man ville fint kunne se en persons ansigt eller identificere objektet uden problemer, hvis en person kom kravlende over muren. Med en 2346'er monteret vil man kunne udlevere en veldokumenteret overvågningsvideo til politiet, som efterfølgende har mange detaljer og gå efter.
Video af nattebilledet:
Konklusion
Hikvisions Acusense generation 2 løsning er designet til områder, hvor alarm søgninger tidligere var en irritation og ens telefon konstant vibrerede i lommen på grund af fejlalarmer. Enheden klassificerer automatisk emner, så når en gennemgang er påkrævet, er det hårde arbejde allerede udført - alt hvad brugeren har brug for, er at rulle gennem en liste over dagens begivenheder, der allerede er samlet af systemet. Acusense generation 2 er blevet så god, at den filtrer regn, blade, bevægelse fra buske og skygger fra og underretter kun brugeren, når en rigtig hændelse opstår - dette kan f.eks. være et menneske eller en bil, som den analysere og alarmere på.
Jeg glæder mig utrolig meget til og se, hvad Hikvision har af planer for fremtiden med denne teknologi. Klassificering af objekter er en interessant retning og noget som private, men også firmaer vil kunne få gavn af. Firmaerne vil kunne minimere gennemgang af video materiale og evt. spare en ansat samt private vil kunne få et hurtig indblik i hvad der rører sig på ens grund og kun fokusere vigtige emner, såsom mennesker eller biler.
Endnu et super godt produkt fra Hikvisions sortiment og et produkt, som er med til, at skabe tryghed i diverse private hjem, firmaer og lokationer rundt om i landet.