There are many types of recorders and it can be difficult to find the right one if you do not know what to look for. That's why we've made a little "quick guide" below.
We certainly also have recorders that can take more than 64 cameras - both 128 cameras and 256 cameras.
In doubt? need advice? We know almost everything and we want to help

70701009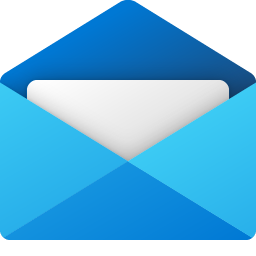 support@ipcam-shop.dk
Without built-in PoE
Connections
All recorders from Hikvision and most other brands can show "live" (here-and-now pictures) and "playback" (recorded video) in several ways. At the back of a recorder there are one or more video outputs for local viewing, typically HDMI and / or VGA outputs. However, most people choose to connect the recorder to the Internet and watch the monitoring on their phone, tablet or computer. They support both PC and Mac. A recorder should always be connected to the Internet with Cable - never WiFi.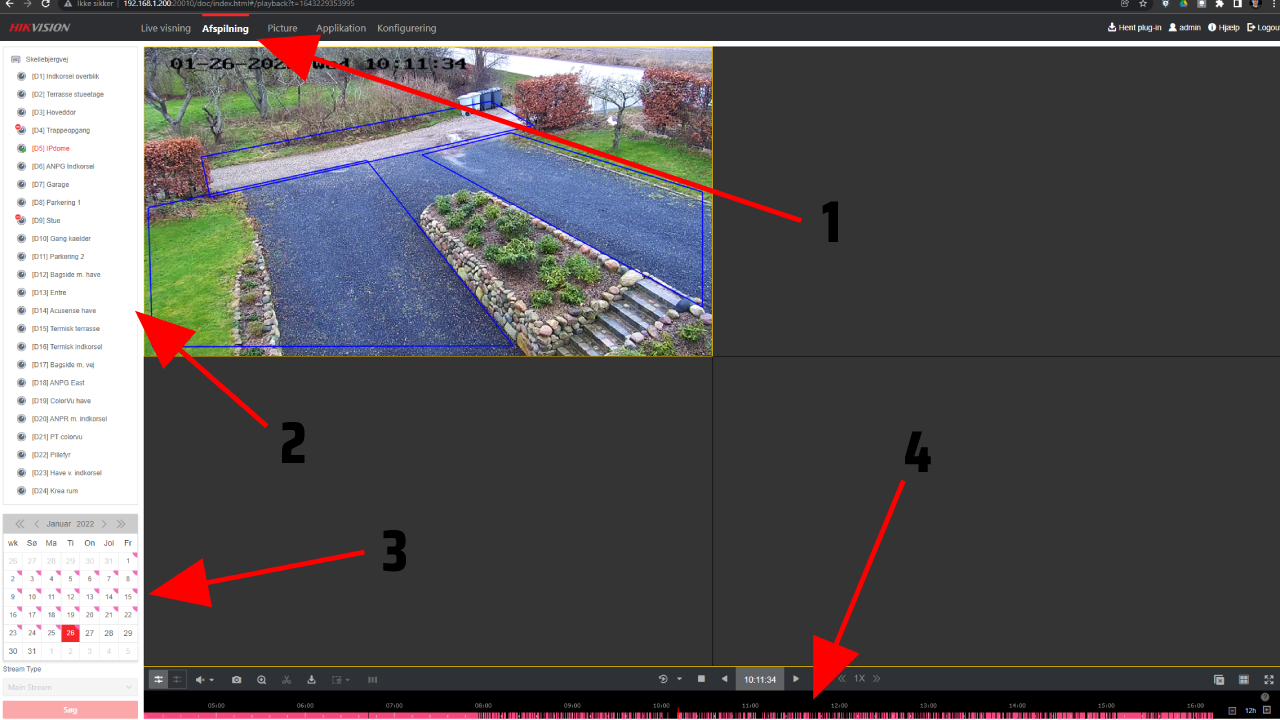 Select Playback

Select camera

Select date

Choose a time
REMEMBER: We have technicians who can help with all the technicalities
It is free to use mobile app for video surveillance, here you can watch both "live" and playback
When an NVR is connected to a TV, it is controlled very simply with a USB mouse. It can be either an included mouse or a wireless self-procured mouse.
There is also "alarm in" and "alarm out" in most models. The number of inputs and outputs can be seen in the data sheet.
An " alarm input " can be used for a myriad of things such as where you want external or 3rd party equipment to operate NVR e.g. forced shooting, image change, PTZ control, Push Messages, e-mails etc.
An " Alarm out " is used to operate other things via NVR. Alarm outputs potential-free relays, which can control a garage door, lighting, coffee machine, alarm systems etc.
Example: I would like a call from my alarm system if a given event occurs, in this case someone staying for a long time in front of my window. I make an "intrusion zone" on a camera and select it to draw "RELAY OUT 1" if a human stays more than 8 seconds in the square I have drawn. Relay 1 is connected to an input on the alarm system, which will then call me when it is connected.
It should also be mentioned that most recorders have a sound (PHONE / AUX) input and output. Therefore you can connect speakers and microphones to the recorder. Audio in is for a microphone and Audio out is for a speaker.
HINT! Audio out must be connected to an amplifier to power the speaker.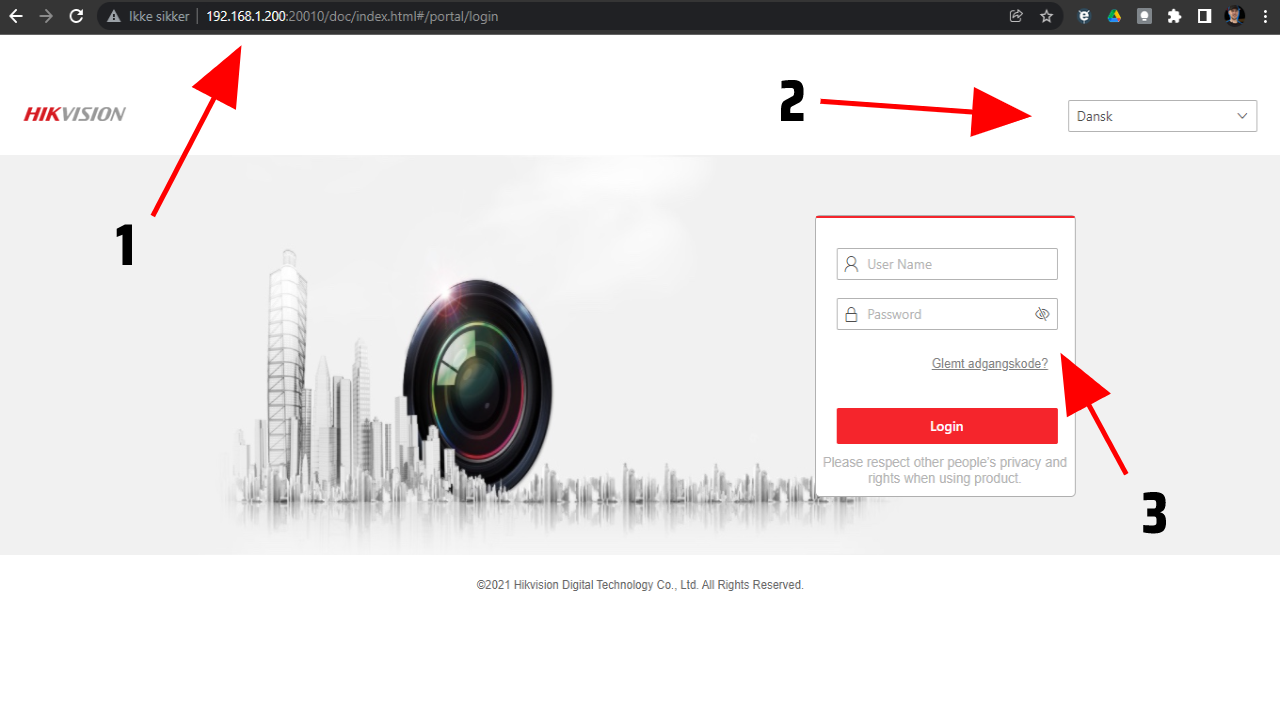 Login via web browser, such as firefox, chrome or edge

select language

Enter username and code (as part of the security, you will be locked out if 6 incorrect entries - for 30 minutes)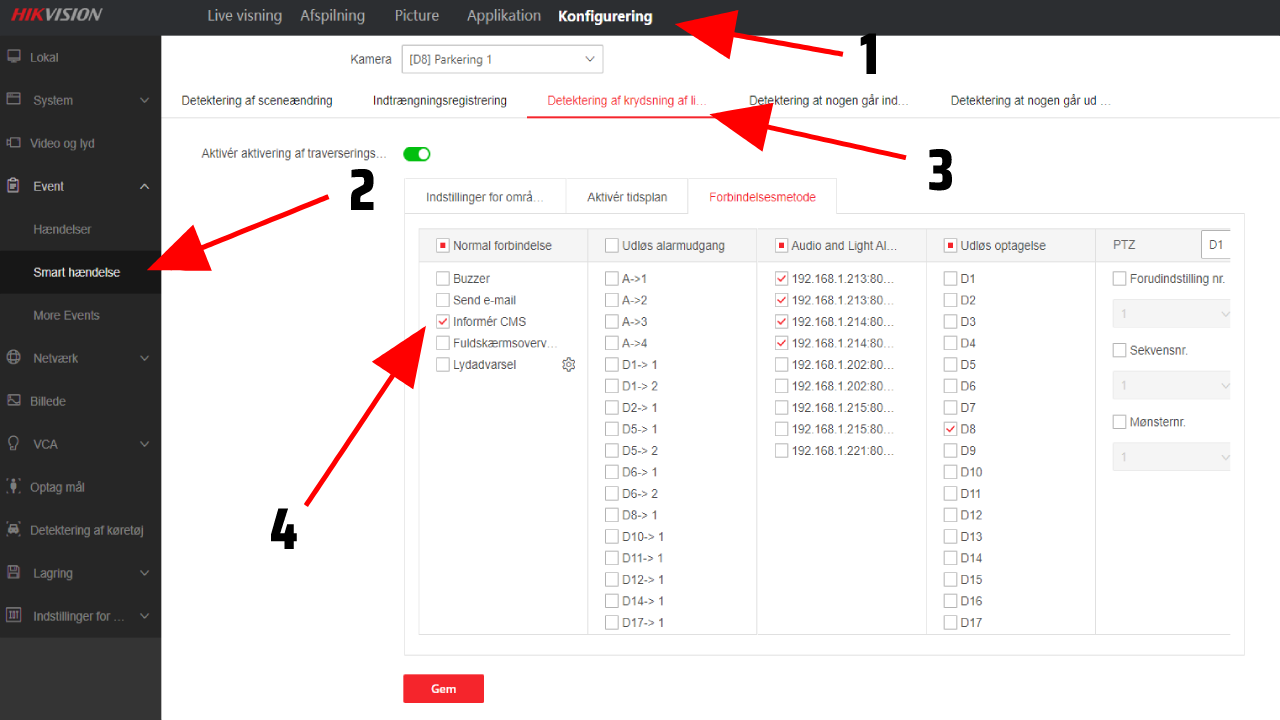 Preview from a 96xx NVR (NVR interface 4.0) features may vary by model and firmware version
In the configuration menu you make all the settings from the web browser

The event menus (events) are displayed here - this is where you choose which things the recorder should react to. Eg. recording on motion

Here intelligent analysis is shown e.g. intrusion detection (eg stays around buildings) and linecross

What should happen when a rule is broken, send PUSH message, record on other channels, turn PTZ camera, pull relay etc.
The different models
Most recorders have the most essential information in the model name, it makes it easier to find your way around the many models, as here at Hikvision:
Here are a few pointers to find the right NVR:
Product series
The DS - 71 XX and DS- 76 XX series are suitable for private and very small businesses.
DS - 77 XX is suitable for small and medium-sized businesses
DS - 96 XX is suitable for large companies.
Number of cameras
DS-XX 16 means that the recorder can handle up to 16 cameras, if it said 08 it would be 8 cameras, 256 is equal to 256 cameras, etc. It can be a good idea if you want to use cameras with a resolution above 2K (4MP ), to select recorders with more channels than the number one intends to connect, why I explain further down around bandwidth capacity.

Example: If I had to have 8 pcs. 4K (8MP) cameras on an NVR, I would choose a DS-7616NI-I2 for private residence or a DS-7716NI-I4 for a business. If I expect to have more cameras on in the future I would choose the DS-7732NI-I4.
REMEMBER: You can always call us and get instructions on 70 70 10 09 - we can also help with the setup
I or K?
Most of Hikvision's NVRs end in a letter and a number; DS-XXXXNI- K2 . The letter defines the generation and the two models primarily sold today are "K" and "I". As a starting point, you can expect the I model to have a lot more power than the K model. The reason for the order is that Hikvision first made the "I" models to handle all the new 4K cameras and then made a "light" version, the K models, to keep the price down for all those who "just" should be able to follow from mobile and otherwise did not have the great demands local output, alarm inputs and outputs, etc. I personally would always always choose the "I" models.
Another thing to be a little aware of is inbound and outbound bandwidth.
If you do not change the camera video settings, do not worry about this point, but if you e.g. turning up the video quality, the camera will require more bandwidth. The total bandwidth a recorder can handle is described in the datasheet.
Most cameras use a bandwidth of about 5 Megabits per second. second (Mbit / s) when the video settings are not changed. If you turn up the settings, you can get up to around 16 Mbit / s and even more for special cameras. The sum of the bandwidth of all the cameras must not exceed the "incomming bandwith" on the recorder.
Example: After connecting 8 pcs. 4K cameras for a DS-7608NI-K2, which has an incoming bandwidth of 80 Mbit / s, I would like to push the cameras to maximum performance, highest video quality, lowest compression, full FPS, etc. and thereby hit 8 x 16 Mbit / s correspondingly to 128 Mbit / s - why should I therefore take a DS-7616NI-K2, which has 160 Mbit / s.
Number of hard drives (HDD)
DS-XXXXNI- X 2 means that the recorder can handle up to 2 hard disks. The size of the disks can always be described in the data sheet, but may change with new firmwares.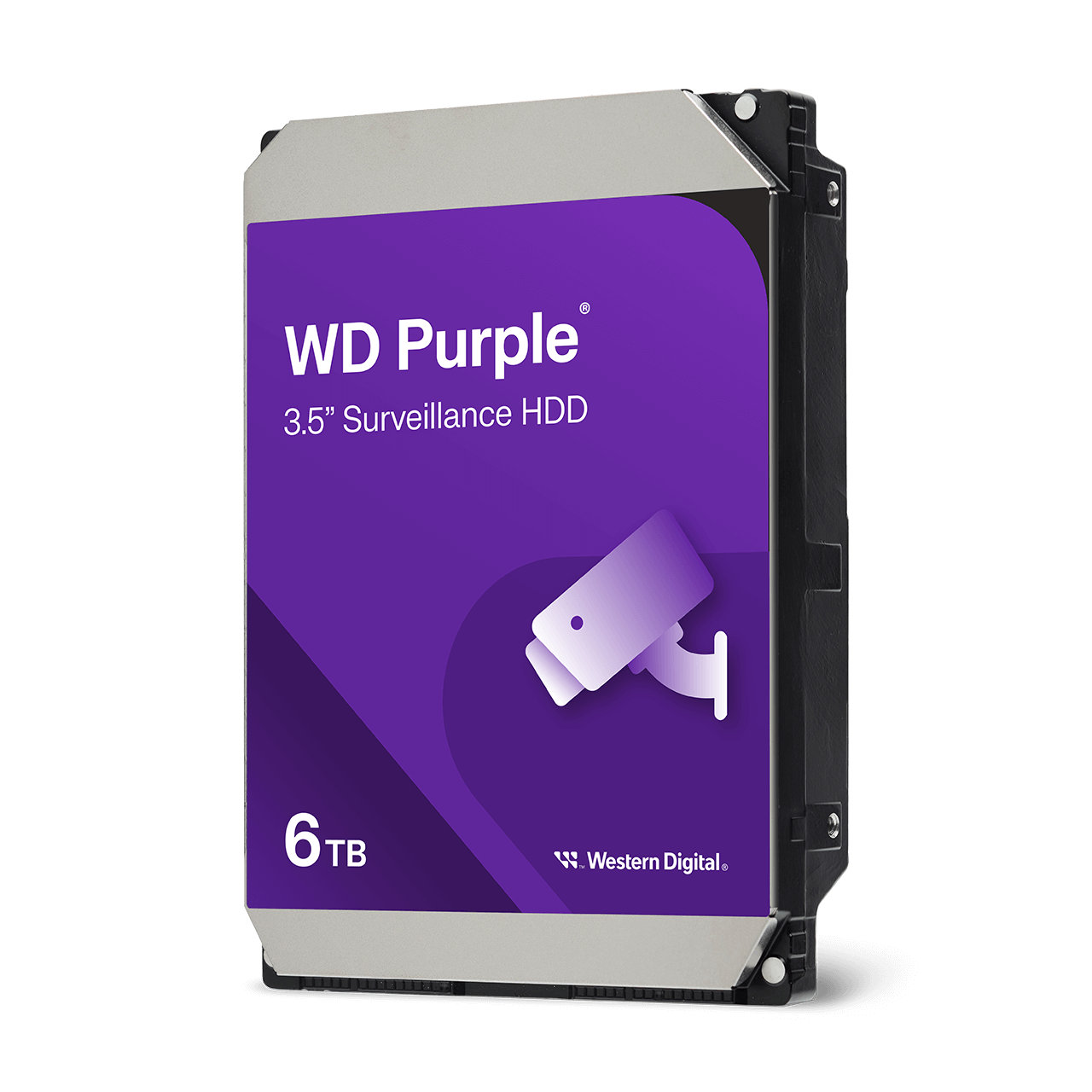 Location of the recorder
The recorder is the central point of most surveillance systems and special efforts should be made to protect it. This is typically done by attaching it so that it cannot be removed, e.g. a fuse box or by fixing it to a stable material. The other way is to save it, for private it could possibly. stored in the attic and for a company it may. fixed in a Rack in a locked technical room. For smaller companies, it can also just be saved if there is no definite technical room.
HINT! The best is a combination, because you can not steal what you can not find
Hard Disk Space Selection (HDD)
An NVR typically comes without an HDD. It is the HDD capacity that defines how long you can rewind, but there are also other parameters that influence your "retention" (ie how long you can rewind)
In short, your "retention" is defined by bit rate and HDD capacity, and is calculated as follows:
HDD capacity = Bitrate x Number of cameras x hours per day * number of days
Bit rate is calculated in Kbit / s (converted to bytes 1000/8)

Conversion of seconds to hours (3600 seconds per hour)

Number of hours of recordings per day (24 for continuous recording)

Number of days to be recorded (typically 30 days)

Example: If you need to record 30 days from 4 cameras with continuous 24 hour recording and with a bit rate of 4096 Kbit / s = 4096 * (1000/8) * 3600 * 24 * 4 * 30 = 5,308,416,000,000 bytes = 5.4 TB
Normally, the recorder is set for motion detection, which means that it is recorded when motion is detected and therefore much less disk space is required. Here you can e.g. calculate with 8 hours of movement per. day, but the better the system is at sorting out unwanted items, the better. Here you can e.g. look at AcuSense from Hikvision.
Example: Now we use the same setup, but just with AcuSense and expect approx. 6 hours recording daily. 30 days from 4 cameras at motion 6 hours of recording and with a bit rate of 4096 Kbit / s = 4096 * (1000/8) * 3600 * 6 * 4 * 30 = 1,327,104,000,000 bytes = 1.4 TB
HINT! You can just use this calculator, we do too;)
https://tools.hikvision.com/calculatorTool/index.html 
Recording methods
Continuous recording: The system records constantly 24/7
Motion detection: When the camera detects motion
Alarm input: Recording when activating alarm input
Motion OR Alarm: Motion or alarm input is activated
Motion AND Alarm: Motion and alarm input must be triggered simultaneously
Smart Event: VCA activation, e.g. intrusion, line-cross mm.
POS: When operating the cash register etc.
Smart event - also known as VCA and the like. we get more into under camera.
Security
Today, even the small NVRs are packed with safety features, including the following:
Password with a maximum of 6 attempts (then 30 waiting time)

Limited access to IP address and MAC address.

Stream encryption

Different user levels with different access rights.
If you log in to the recorder and make changes, this is saved in a log.
If you just need to have a single camera set up, you can consider inserting a memory card directly into the camera. You will still have the opportunity to watch and play back the recordings directly from your phone or computer - so you no longer have to take the card out of the camera and put it in a computer.