Hvad gør man når det ikke er muligt at trække et kabel?
I de fleste tilfælde kan man få et kabel ud til sit kamera, men det er ikke altid fysisk eller økonomisk muligt, eksempelvis mellem bygninger, over lange afstande eller på tværs af store haller mm. Fortvivl dog ikke, for vi har løsningen og den er lige til. Trådløst kabel, som vi kalder det, kan sende et stabilt signal over en længere afstand, endda helt op til 10 KM. 
Forbindelsen og enhederne der laver den, kalder vi herefter for "linket" for nemhedens skyld. Linket skal ses på samme måde som et kabel, det vil sige, at der kan sættes adskillige kameraer på i begge ender og man kan udvide præcis på samme måde som havde man et fysisk kabel.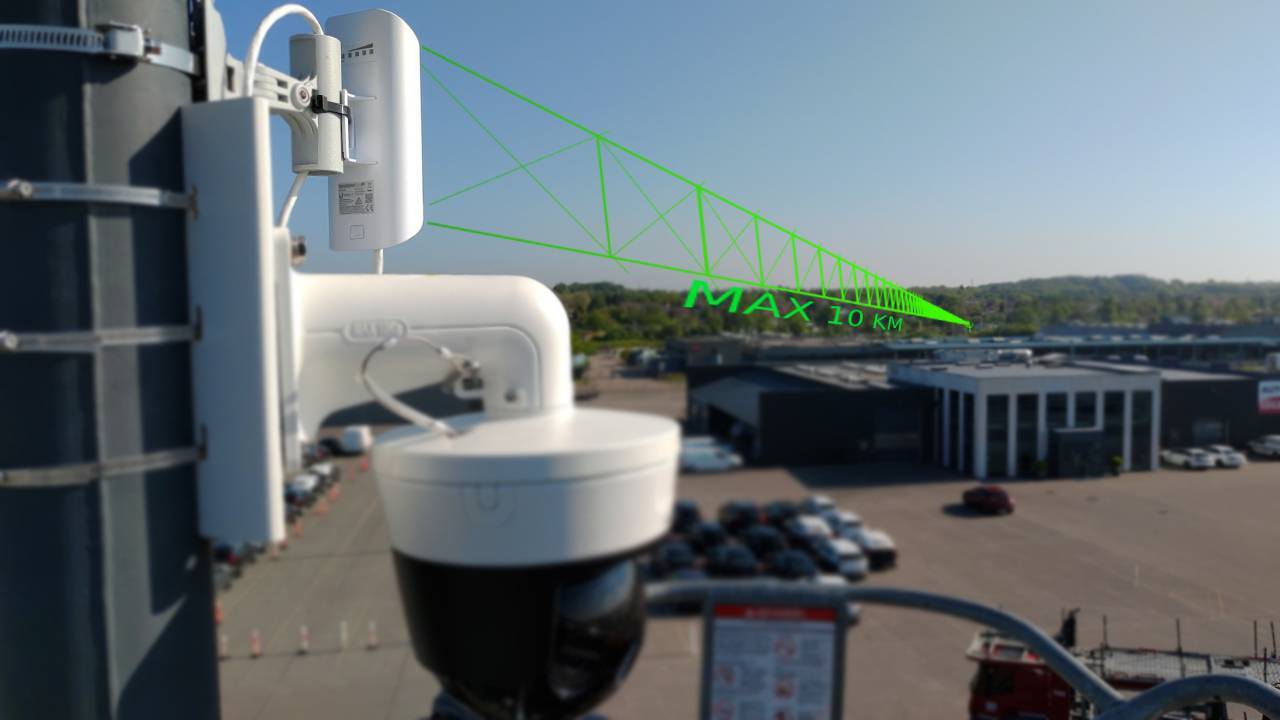 Er det svært at konfigurere?
Nej det er det ikke, for vi har nemlig allerede programmeret det hele. Så du skal bare sætte de to enheder op i hver sin ende, tilslutte netværkskablet og så pege dem mod hinanden. Kort tid efter er forbindelsen oprettet og så kan du tilslutte alle dine kameraer, accespoints, computere, kasseapparater eller hvad du nu vil have på netværket.
Er trådløst kabel stabil nok til videoovervågning?
Ja absolut. Vi ville ikke anbefale disse løsninger, hvis ikke vi havde testet dem og kunne stå 100% inde for dem. Forbindelsesmetoden bruges også til mange andre typer netværk og har en masse teknologi der er med til at sikre en stærk, sikker og vedvarende forbindelse uden udfald og afbrydelser.
Hvor mange kameraer kan man tilslutte en trådløs forbindelse?
De fleste kameraer sender typisk 4-8 Mbit/s til optageren, så hvis vi vil være sikre og går ud fra 10 Mbit/stil vores beregninger, så vil det se således ud:
Multisensor- og 4K overvågningskamera bruger typisk mere end gennemsnittet, hvis du vil have lavet en præcis beregning til dig projekt, så tag fat i vores specialister.

Hvor langt rækker det og kan det "gå" igennem vægge?
Som udgangspunkt har Linket en rækkevidde ca. 10 kilometer, men er behovet for længere afstand, kan vi komme helt op på 33 kilometer, tag fat i vores teknikere hvis du skal over 10 Km. Du kan sådan set godt sende igennem materialer som træ, gips, mursten mm. men det er ikke stabilt og vi fraråder forhindringer mellem de på links. Sagt på en anden måde, så anbefaler vi at der er line-of-sight, altså at de to links kan se hinanden. Signalet er naturligvis også påvirkeligt af miljøet så hvis det regner eller sner kan det tage en lille smule rækkevidden, men det er kun noget man bemærker på de helt lange afstande. Hvis der er mange links tæt på hinanden eller meget støj i luften, kan det også være nødvendigt at skifte til frekvenser, men som udgangspunkt har vores links selv styr på det.
Kræver de meget vedligeholdelse?
Nej, de skal bare holdes fri for de værste brugte cykler, løsrevne hegnspæle og omkring-flyvende småt brændbart og så skal man af og til lige kontrollere at de stadig peger lige mod hinanden. Så det kan være en god idé at lave en plan om at kigge til dem en gang i mellem, f.eks. når man alligvel pudser vinduer.