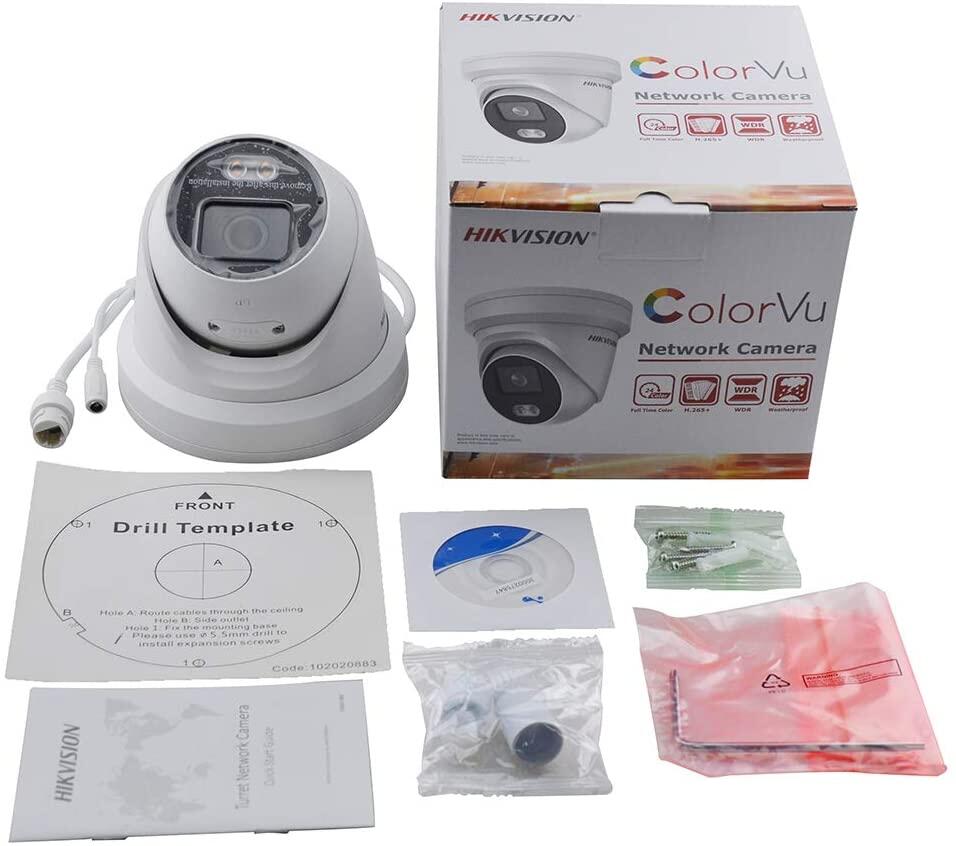 Produktanmeldelse: ColorVu DS-2CD2347G1-L
af RM – 7. januar 2020
Når det kommer til overvågning samt få det bedste og skarpeste natte billede, så har det altid heddet Hikvision Darkfighter serien, men med ankomsten af ColorVu har Hikvision nu også taget førertrøjen, når det kommer til fuld farvebillede i nattetimerne.
Indhold
Efter udpakning af enheden, ser vi de velkendte materialer, som Hikvision altid vedlægger i deres produkter.
Kassen indeholder

1 x pose med skruer
1 x pose med umbraco nøgle samt pudseklud
1 x pose med manual
1 x pose med tætningsmaterialer til når du skal tilslutte netværks kablet, så det er vandtæt op til enheden
1 x monteringsmærkat
Installationen af selve kameraet, er ret ligetil. Hikvision vedlægger nemlig en boreskabelon, som man holder mod overfladen, hvor man ønsker at montere kameraet. Derefter borer man igennem de relevante positioner, som er markeret på klistermærket. Når enheden er placeret på den lokation, som man ønsker og kameraet er justeret korrekt ind, fastgøres sikkerhedsskruen, så enheden ikke kan drejes mere. Ønsker man og installere et SD-Kort i enheden kan man løsne de to skuer, som sidder over linsen og indsætte kortet og skruerne spændes til igen. Til sidst klikkes det hvide runde dæksel på kameraet igen og enheden er nu klar til konfiguration.
Når kameraet er installeret og blevet tilsluttet en PoE (Power over Ethernet) kablet netværksforbindelse, er konfiguration af kameraet ligetil. Man skal blot starte SADP (Search Active Devices Protocol) værktøjet fra Hikvisions hjemmeside. Efter SADP-konfigurationen, kan man nu indtaste ip-adressen på enheden i en webbrowser for, at komme til login siden og forsætte installationen af kameraet.
Kameraet har en omfattende liste af konfigurationsindstillinger. Herunder ting som meddelelsesudløsere, ansigtsdetektering, bevægelsesdetektering (baseret på pixelændringer, der kan opsættes med hensyn til detekteringsområde og følsomhed) såvel som multi-streams (én strøm kan være i meget høj kvalitet til optagelse af video på din NVR (Network Video Recorder), mens en anden strøm kan være af lavere kvalitet, for at muliggøre hurtigere adgang fra mobilenheder).
Kameraet egner sig til og blive placeret under udhæng eller på husmuren. Den er yderst god til og gengive farve om natten – billedet vil kun blive bedre, hvis man har noget kunstig lys i form af lygtepæle eller udendørs belysning rundt om huset. Har man ingen lyskilder, så vil enhedens LED lampe kunne hjælpe til og derved gøre billedet knivskarpt og i fuld farve.
Man skal dog være OBS. På, at hvis man installere denne enhed tæt på en nabo, at LED'en ikke genere den anden husstand, da enheden har en yderst kraftig LED lampe indbygget i sig.
Specifikationer:
Modellen kan købes i forskellige linse versioner - muligheder inkludere 2.8, 4 og 6mm, med en blænde på F1.0.
2.8mm version, som vi bruger i denne test, har et vandret synsfelt på 109° og et lodret synsfelt på 55°. Enhedens størrelse er 138.3 × 125.2 mm, vejer 575g og har en arbejdstemperatur på -30 til 60C. Enhedens kommer ligeledes med en 1/1.8" Progressive Scan CMOS der giver os 2688 × 1520 pixels ved 25fps, 120dB WDR, Darkfighter teknologi, H.265+, H.265, H.264+ og H.264 kompression. Modellen understøtter ligeledes micro SD/SDHC/SDXC op til 128GB.
Smart Event:
I denne anmeldelse vil jeg kort fokusere på krydsning af linje/line crossing funktionen og derved deaktivere motion event, under menuen Event > Hændelser > Bevægelsesreg.str samt fjerne det røde gitter på knappen "Ryd alle".
I billedet nedenfor er der sat en krydsning af linje med alarm notifikation, hvis en person går fra A (plankeværk) over stregen til B (vinduerne). Min. kassen er justeret større end fugle og katte. Smart Event er helt klart den bedste måde og mindske fejlalarmer på, da den kun melder om alarm, hvis et objekt går over stregen.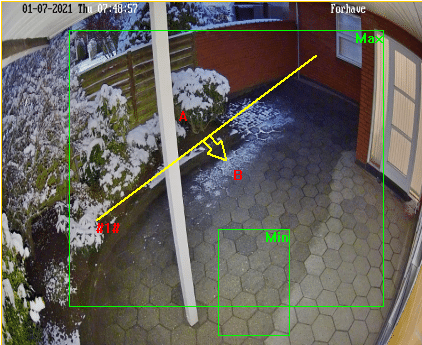 Den vil altså ikke melde fejl, hvis blade, små mus eller andet bevæger sig i baggrunden.
Hurtig sammenligning: ColorVu 4mp turret vs Darkfighter 4mp turret:
ColorVu, dagsbillede:
Der er ganske lidt, hvis ingen forskel fra ColorVu serien og Darkfighter serien, når det er lyst udenfor.
De to ser utrolig ens ud, men dette ændre sig markant, når mørket falder på.
(ColorVu er det første billede nedenfor)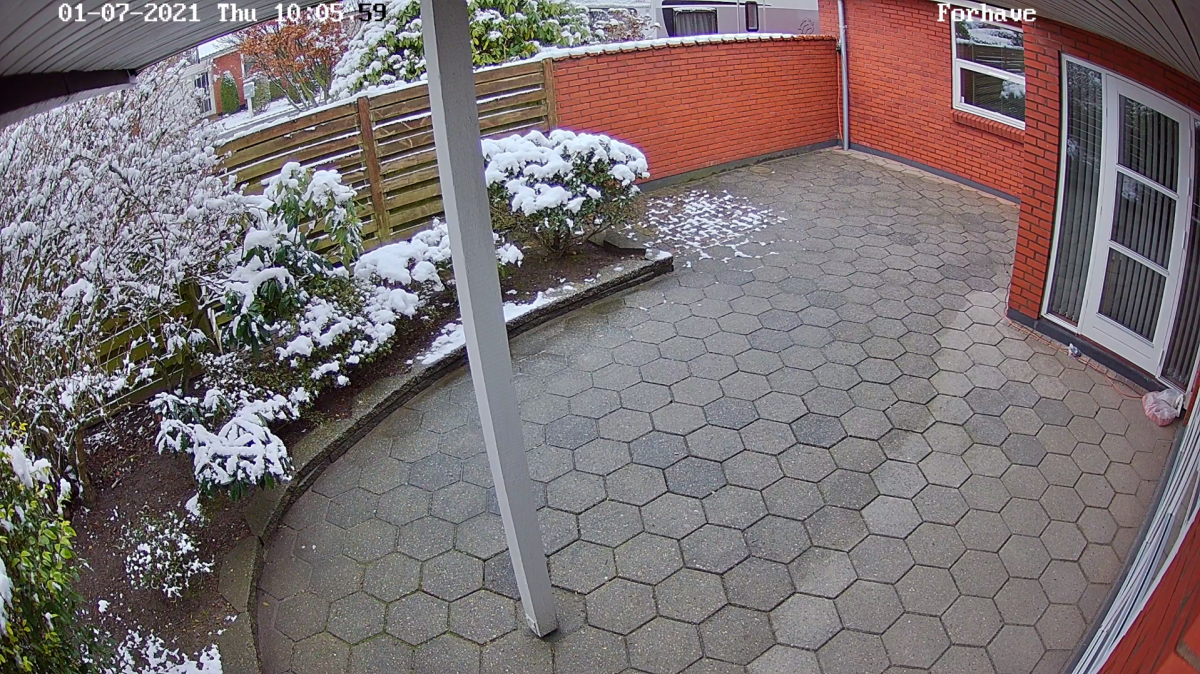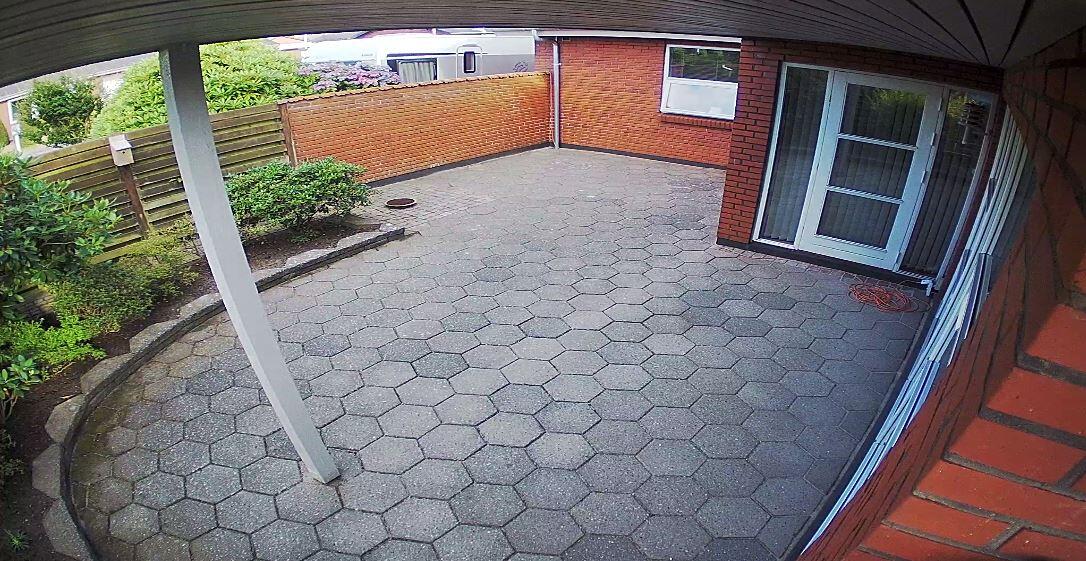 ColorVu, nattebillede:
Forskellen er som nat og dag imellem de to billeder fra samme lokation. Hikvision Darkfighter serien er kniv skarpt i billedet, men med ColorVu får vi nu åbnet op for hele farvepaletten og har forsat et suverænt nattebillede.
Det er utroligt, at enheden kan gengive så meget farve og klarhed – klokken er immervæk 20:01 og det er januar måned. Vi er altså forsat i en af de mest mørkeste måneder på året.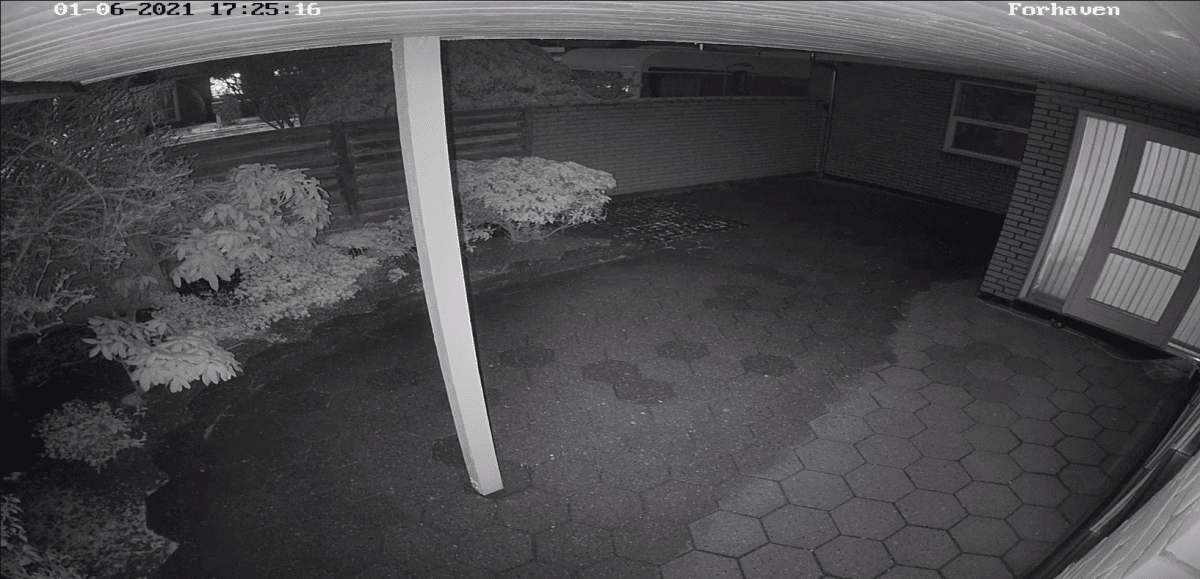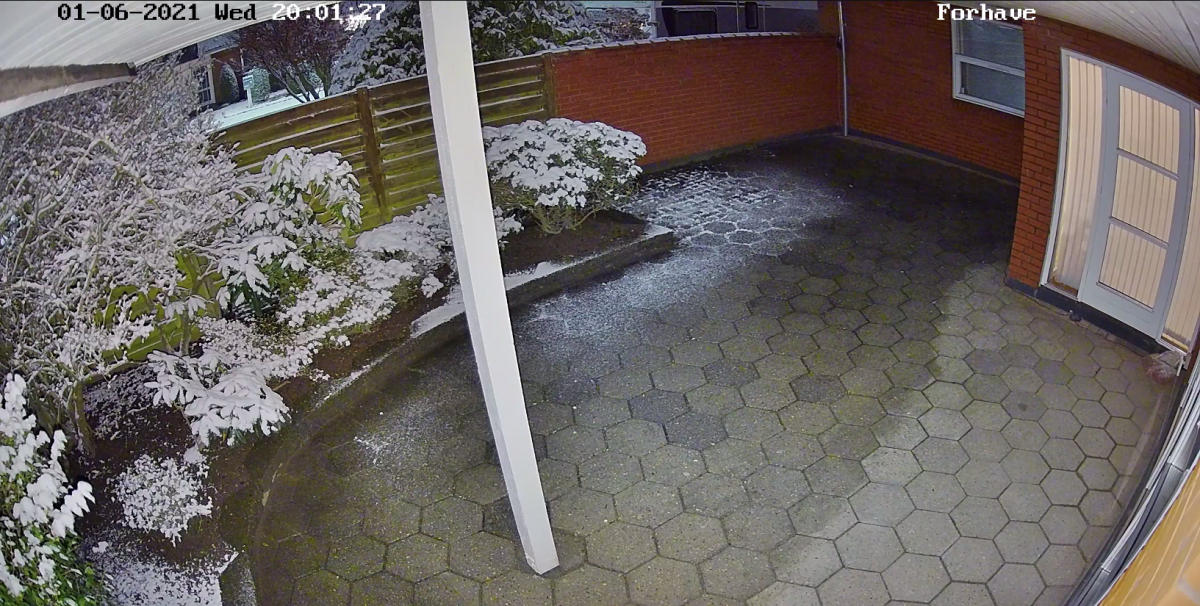 LED styrke:

Ønsker man at få mere styrke på LED'en, kan de justeres op og ned, inde i enheden.
Under denne test har jeg valgt og bruge en lysstyrke værdi på max 25
Video af nattebilledet:
Konklusion
Dette var en ret basis test baseret på nogle få snapshots og en video på en klar januar dag og aften, men dette giver alligevel et godt billede af, hvor godt Hikvisions ColurVu kamera er samt man kan hurtig se enhedens styrke, når mørket falder på.
Jeg er forsat utrolig overrasket over, at Colorvu modellen kan gengive et så klart, skarpt og farverigt billede på sådan en mørk januar aften.
Man har nu med ColorVu serien mulighed for, at identificere en personens tøjfarve eller bilens farve, hvis den var placeret i en indkørsel. Dette giver nogle utrolig vigtige elementer, som kan videregives til politiet, hvis uheldet skulle være ude.
Kameraet kommer ligeledes fyldt med diverse innovative funktioner som f.eks. alarm på objekter, der bliver efterladt på grunden, krydsning af linje, ansigtsgenkendelse og meget mere.