Hikvision DS-7608NXI-I2 / S 8 Channel IP AcuSense NVR
Fantastic hard disk recorder with artificial intelligence. Perfect for the home or the small shop.
Face recognition
Get push notifications on the go - with direct access to video from your mobile
Avoid messages about insignificant things - but get messages about people or cars (Acusense). Also on older cameras that do not even know AcuSense.
Create your own local control center with TV / Computer monitor and mouse
Hot

Recommended by our technicians
Facial Recognition
 
Facial detection and analytics
Face picture comparison, human face capture, face picture search
Face picture library
Up to 16 face picture libraries, with up to 10,000 face pictures in total (each picture ≤ 512 KB, total capacity ≤ 150 MB)
Face picture comparison
4-ch face picture comparison alarm
Performance of facial detection and analytics
1-ch human face capture (HD network camera, up to 8 MP, H.264/H.265)
Perimeter Protection
 
Human/Vehicle analysis
Up to 4-ch 2 MP (H.264/H.265) video analysis for human and vehicle recognition to reduce false alarm
Video and Audio
 
IP video input
8-ch
Up to 12 MP resolution
Incoming bandwidth
80 Mbps
Outgoing bandwidth
256 Mbps
HDMI output
4K (3840 × 2160)/60Hz, 4K (3840 × 2160)/30Hz, 2K (2560 × 1440)/60Hz, 1920 × 1080/60Hz, 1600 × 1200/60Hz, 1280 × 1024/60Hz, 1280 × 720/60Hz, 1024 × 768/60Hz
VGA output
1-ch, 1920 × 1080/60Hz, 1280 × 1024/60Hz, 1280 × 720/60Hz, 1024 × 768/60Hz,
Video output mode
HDMI/VGA independent output
CVBS output
1-ch, BNC (1.0 Vp-p, 75 Ω), resolution: PAL: 704 × 576, NTSC: 704 × 480
Audio output
1-ch, RCA (Linear, 1 KΩ)
Two-way audio input
1-ch, RCA (2.0 Vp-p, 1 KΩ)
Decoding
 
Decoding format
H.265+/H.265/H.264+/H.264/MPEG4
Recording resolution
12 MP/8 MP/6 MP/5 MP/4 MP/3 MP/1080p/UXGA/720p/VGA /4CIF/DCIF/2CIF/CIF/QCIF
Synchronous playback
8-ch
Capability
8-ch@1080p (30 fps)
Dual stream recording
Support
Stream type
Video, Video & Audio
Audio compression
G.711ulaw/G.711alaw/G.722/G.726/MP2L2
Network
 
Remote connections
128
Network protocol
TCP/IP, DHCP, Hik-Connect, DNS, DDNS, NTP, RTSP, SADP, SMTP, SNMP, NFS, iSCSI, ISUP, UPnPTM, HTTP, HTTPS
Network interface
2, RJ-45 10/100/1000 Mbps self-adaptive Ethernet interface
Auxiliary interface
 
SATA
2 SATA interfaces supporting hot-plug
Capacity
Up to 8 TB capacity for each disk
Alarm in/out
4/1
USB interface
Front panel: 1 × USB 2.0; Rear panel: 1 × USB 3.0
General
 
Power supply
100 to 240 VAC, 50 to 60 Hz
Consumption (without HDD)
≤ 15 W
Working temperature
-10 °C to 55 °C (14 °F to 131 °F)
Working humidity
10% to 90%
Chassis
1U chassis
Dimension (W × D × H)
385 × 315 × 52 mm ( 15.2"× 12.4" × 2.0")
Weight (without HDD)
≤ 1.6 kg (3.5 lb)
Kombiner optageren med et kamera, som f.eks. den lille ringklokke, og søg på hvem der har været ved døren.
Optageren kan analysere en videostream, og op til 4 kameraer som sender billeder, samtidigt.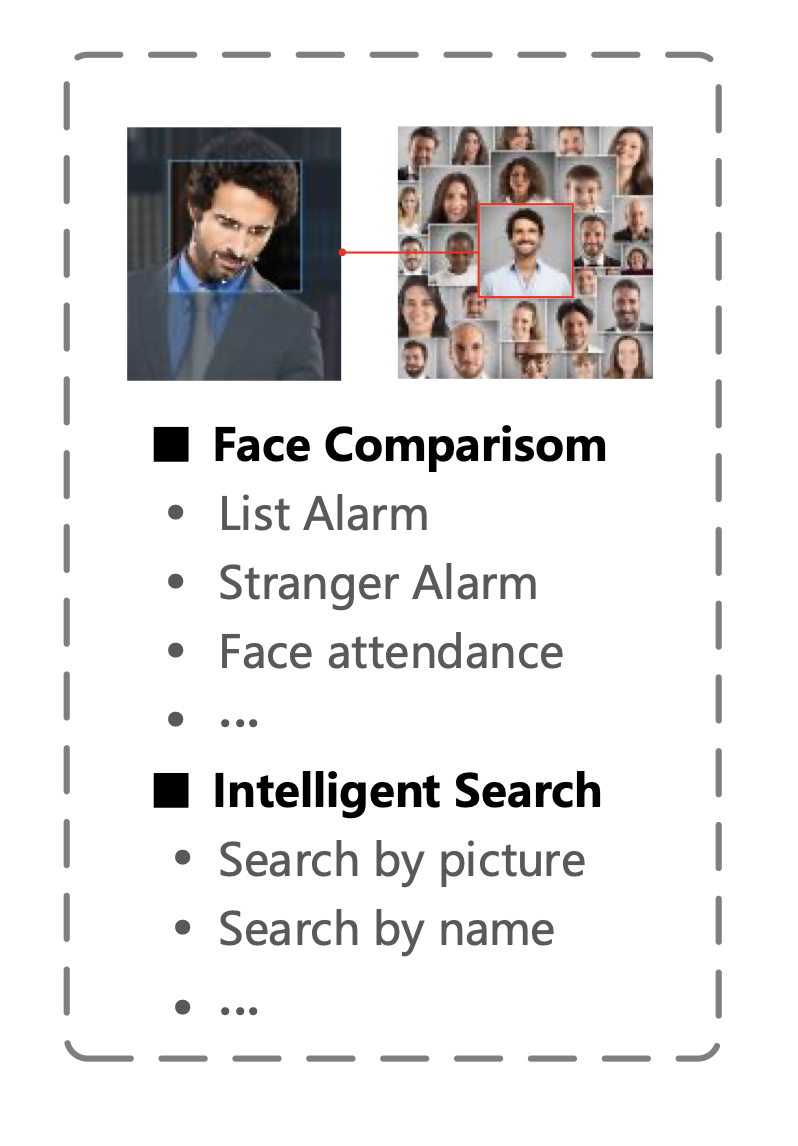 Alternativt kan optageren udføre Acusense-analyse (menneske- og køretøjsdetektering) for 4 kameraer samtidigt.
For more information, please visit this product's webpage.