Hikvision DS-2DE7A232IW-AEB(T5) 2MP 32x PTZ Hi-PoE
Model:
DS-2DE7A232IW-AEB(T5)
One of the best sized PTZ cameras from Hikvision
Autotracking
Human & Vehicle Detection
Full HD + 200 meters nightvision
32x optical zoom + 16x digital zoom
PoE +
White strobe light + speaker for warning
This camera can be controlled directly from APP, computer, NVR, DVR, Joystick and other Hikvision cameras via an NVR.
7% Off

⭐️ ⭐️ ⭐️ ⭐️ ⭐️ ⭐️

Recommended by our technicians
Camera

Image Sensor

1/2.8" progressive scan CMOS

Min. Illumination

0 Lux with IR,B/W: 0.001Lux@(F1.2,AGC ON),color: 0.005Lux @ (F1.2,AGC ON)

Shutter Speed

1/1s-1/30000s

Slow Shutter

yes

Focus

semi-auto;manual;auto

Day & Night

ICR

Day/Night Switch

auto

BLC

yes

WDR

120 dB WDR

HLC

yes

3D DNR

yes

Defog

yes

EIS

yes

Regional Exposure

yes

Regional Focus

yes

Image Settings

saturation;brightness;contrast;sharpness

White Balance

auto;ATW;sodium lamp;fluorescent lamp;indoor;outdoor;MWB;Locked WB

Digital Zoom

16x

Optical Zoom

32x

Privacy Mask

up to 24 masks;polygon region ;mosaic mask ;mask color configurable

DORI

Detect(25px/m):2046.9m Observe(63px/m):812.3m Recognize(125px/m):409.4m Identify(250px/m):204.7m

SNR

>52dB
Lens

Focal Length

4.8 mm to 153 mm, 32× Optical

Zoom Speed

approx.4.2s

FOV

Horizontal field of view: 58.4° to 2.14° (wide-tele), Vertical field of view: 33.8° to 1.2° (wide-tele), Diagonal field of view: 65.6° to 2.46° (wide-tele)

Aperture

F1.2
Illuminator

IR Distance

200 m

Visual Alarm

30 m
PTZ

Movement Range (Pan)

360°

Movement Range (Tilt)

-15° to 90° (auto flip)

Pan Speed

pan speed: configurable from 0.1° to 160°/s; preset speed: 240°/s

Tilt Speed

tilt speed: configurable from 0.1° to 120°/s, preset speed 200°/s

Proportional Zoom

yes

Presets

300

Patrol Scan

8 patrols, up to 32 presets for each patrol

Pattern Scan

4 pattern scans

Power-off Memory

yes

Park Action

preset;pattern scan;auto scan;tilt scan;random scan;frame scan;panorama scan

3D Positioning

yes

PTZ Status Display

yes

Preset Freezing

yes

Scheduled Task

preset;pattern scan;patrol scan;auto scan;tilt scan;random scan;frame scan;panorama scan;dome reboot;dome adjust;aux output
Video

Max. Resolution

1920 × 1080

Stream Type

main stream;sub-stream;third stream

Main Stream

50Hz: 25fps (1920 × 1080, 1280 × 960, 1280 × 720); 60Hz: 30fps (1920 × 1080, 1280 × 960, 1280 × 720)

Sub-Stream

50Hz: 25fps (704 × 576, 640 × 480, 352 × 288); 60Hz: 30fps (704 × 480, 640 × 480, 352 × 240)

Third Stream

50Hz: 25fps (1920 × 1080, 1280 × 960, 1280 × 720, 704 × 576, 640 × 480, 352 × 288); 60Hz: 30fps (1920 × 1080, 1280 × 960, 1280 × 720, 704 × 480, 640 × 480, 352 × 240)

Video Compression

H.265;H.264;MJPEG

Video Bit Rate

32 kbps to 16384 kbps

H.264 Type

baseline profile;main profile;high profile

H.265 Type

main profile

H.264+

yes

H.265+

yes

SVC

yes

ROI

dynamic face tracking;dynamic target tracking;main stream, sub-stream and third stream respectively support eight fixed areas
Audio

Audio Compression

G.711alaw;G.711ulaw;G.722.1;G.726;MP2L2;AAC;PCM

Audio Bit rate

AAC: 16 kbps, 32 kbps, 64 kbps;MP2L2: 32 kbps, 40 kbps, 48 kbps, 56 kbps, 64 kbps, 80 kbps, 96 kbps, 112 kbps, 128 kbps, 144 kbps, 160 kbps;192kbps

Audio Sampling Rate

MP2L2:16kHz,32kHz,48kHz,AAC:16kHz,32kHz,48kHz,PCM:8kHz,16kHz,32kHz,48kHz

Environment Noise Filtering

yes
Smart Features

Face Capture

yes

Basic Event

audio exception;motion detection;video tampering alarm;alarm input and output;alarm input;alarm output;exception

Smart Event

intrusion detection;line crossing detection;region entrance detection;region exiting detection;unattended baggage detection;object removal detection

Smart Tracking

manual tracking;event tracking;auto-tracking

Smart Record

ANR;Dual-VCA

Alarm Linkage

preset;patrol scan;pattern scan;memory card video recording;alarm output;sending email;notify surveillance center; upload to FTP;white light flashing;audible warning
Network

Network Storage

NAS (NFS, SMB/ CIFS);ANR

Protocols

IPv4/IPv6;HTTP;HTTPS;802.1x;Qos;FTP;SMTP;UPnP;SNMP;DNS;DDNS;NTP;RTSP;RTCP;RTP;TCP/IP;DHCP;PPPoE;UDP;IGMP;ICMP;Bonjour

API

Open-ended API, ONVIF (Profile S, Profile G), ISAPI, Hikvision SDK, Third-party management platform, ISUP

Simultaneous Live View

20

User/Host

32

Smooth Streaming

yes

Security Measures

Authenticated username and password;MAC address binding;HTTPS encryption;802.1X authenticated access;IP address filter

Client

iVMS-4200

Web Browser

IE 8 to 11, Chrome 57+, Firefox 52+, Safari 12+
Interface

Communication Interface

RJ45;Self-adaptive 10M/100M Ethernet port

On-board Storage

support microSD/microSDHC/microSDXC cards;up to 256 GB

Alarm Input

2 alarm inputs

Alarm Output

1 alarm output

Audio Input

1 audio input, 2.0 to 2.4Vp-p, 1k Ohm±10%

Audio Output

1 audio output, line level, impedance: 600 Ω
General

Power

24 VAC, Hi-PoE

Power Interface

tail type

Power Consumption and Current

max. 42 W (including max. 18 W for IR and max. 10 W for heater)

Operating Conditions

humidity: ≤ 90%;temperature: -30℃ to 65℃ (-22°F to 149°F)

Reset

yes

Demist

yes

Material

ADC12

Dimensions

Φ220 mm × 363.3 mm (Φ 8.66" × 13.91")

Approx. 5Kg (11.03 lb)

Web Client Language

English
Approval

Protection

IP66, IK10 (excluding glass window), 6000V Lightning Protection, Surge Protection and Voltage Transient Protection
About the camera
The camera is built of 5 kg. quality and is packed with the latest technology. This camera is both a really good addition to fixed cameras and one has a really scary effect on unwelcome people, as it can light / flash with bright white light and even talk to the built-in speaker.
Danish, English, German, Swedish + many more languages on the menu
Basic "events":
Motion detection
Camera tamper detection (physical)
Alarm in (receive signals from 3rd party equipment, the camera can react to the signals)
Alarm out (relay output: send signals or switch external equipment on / off)
Exceptions
White light (flashing / constant light)
Speaker (Choose sounds or upload yourself)
Smart events
Sound exception detection (line-in signal to the camera, record increase / decrease in sound level)
Intrusion detection (person / vehicle, in selected area, in selected time period)
Line crossing (person / vehicle, crossing selected line, in selected direction or both directions)
Detection that someone is entering area
Detection that someone is going out of range
Detection of stray luggage
Detecting that an object is being removed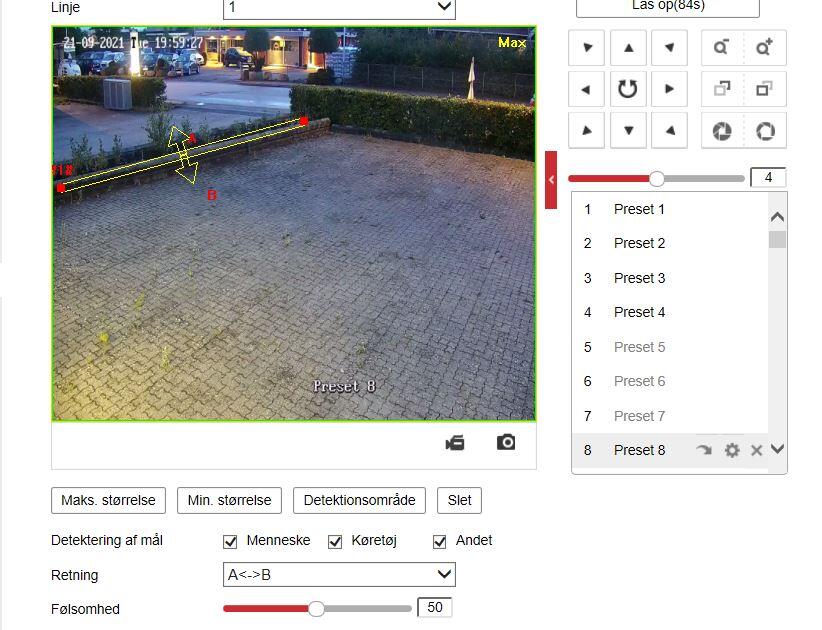 Example of line crossing, here a push message will be sent if the line is crossed in both directions.
About Autotracking
Autotracking is a function in the camera that, when activated, enables the camera to follow the target itself, which broke a rule, such as. line crossing. You can choose several rules to activate autotracking, so you have, for example, a line crossing in the driveway and an intrusion zone by the windows. You define yourself how much the camera "zooms" and how long it can track on a target before it runs back to the starting point.
About speaker and white light
The camera has built-in powerful white LEDs and a 5w speaker.
The speaker can make notification or you can talk through it from your APP. You can choose one of the pre-installed sounds or you can upload your own, however, it must be a specific type of audio file, the details of the audio file are displayed inside the menu and can change with firmwares.
The white light can also be adjusted. You can select several different speeds at flashing or continuous light. You can also choose how long to light or flash. The white light has a good deterrent effect, when combined with autotracking, you feel really monitored :)
About nightvision
The camera has impressive 200 meters of infrared lighting. Infrared lighting, humans can not see with the naked eye, but the camera can. Adaptive infrared lighting ensures that the camera adjusts the amount and width of the light to how much zoom is used. It provides better night images and less over- and under-exposure.
Smart IR can also help adjust the light intensity even if the zoom level is not changed.
About compensation for backlight
BLC, Back Light Compensation, adjusts the light level to the selected area and the remaining area risks over- or under-lighting
WDR, Wide Dynamic Range, takes 3 pictures, one normal, one over- and one underexposed. The best of all 3 images are gathered in one. Good in strong backlight.
HLC, Head Light Compensation, "fights" backlight from headlights.
About the PTZ part
Proportional panning means that the farther you zoom in, the slower the camera rotates when you control it, it provides calm movements when the camera is zooming in a lot.
Operation: The camera can be controlled from web browser, mobile, tablet, with joystick or via mouse and screen on an NVR.