Hikvision DS-2CD2047G2-L 4MP ColorVu PoE
Availability:
In stock - ships within 1 to 2 weekdays
Small discreet bullet camera that is easily mounted on both wall, sloping wall and ceiling with the built-in arm.
With its 4 MegaPixel image sensor, the camera delivers a really good day's image.
ColorVu provides color image around the clock with built-in white LED if the lighting conditions get too bad.
Get rid of most insignificant footage by classifying people and vehicles.
Can be accessed from both smartphone, PC and tablet through the Hik-Connect app.
Supports Danish, Swedish, Norwegian, German and English languages.
⭐️ ⭐️ ⭐️ ⭐️ ⭐️ ★

Recommended by our technicians
Camera
 
Image Sensor
1/1.8" Progressive Scan CMOS
Min. Illumination
Color: 0.0005 Lux @ (F1.0, AGC ON), B/W: 0 Lux with white light
Shutter Speed
1/3 s to 1/100,000 s
Slow Shutter
Yes
P/N
P/N
Wide Dynamic Range
130 dB
Angle Adjustment
Pan: 0° to 360°, tilt: 0° to 90°, rotate: 0° to 360°
Lens
 
Lens Type
Fixed focal lens, 2.8, 4, and 6 mm optional
Iris Type
Fixed
Lens Type & FOV
2.8 mm, horizontal FOV 112°, vertical FOV 61°, diagonal FOV 134°
4 mm, horizontal FOV 95°, vertical FOV 51°, diagonal FOV 115°
6 mm, horizontal FOV 58°, vertical FOV 31°, diagonal FOV 69°
Depth of Focus
2.8 mm, 2.5 m to ∞ 4 mm, 3.5 m to ∞ 6 mm, 7.5 m to ∞
Aperture
F1.0
Lens Mount
M16
DORI
 
DORI
2.8 mm, D: 58 m, O: 23 m, R: 11 m, I: 2 m
4 mm, D: 77 m, O: 30 m, R: 15 m, I: 7 m
6 mm, D: 115 m, O: 45 m, R: 23 m, I: 11 m
Illuminator
 
Supplement Light Type
White Light
White Light Range
40 m
Smart Supplement Light
Yes
Video
 
Max. Resolution
2688 × 1520
Main Stream
50 Hz: 25 fps (2688 × 1520, 1920 × 1080, 1280 × 720)
60 Hz: 30 fps (2688 × 1520, 1920 × 1080, 1280 × 720)
Sub Stream
50 Hz: 25 fps (640 × 480, 640 × 360)
60 Hz: 30 fps (640 × 480, 640 × 360)
Third Stream
50 Hz: 10 fps (1920 × 1080, 1280 × 720, 640 × 480, 640 × 360)
60 Hz: 10 fps (1920 × 1080, 1280 × 720, 640 × 480, 640 × 360)
*Third stream is supported under certain settings.
Video Compression
Main stream: H.265/H.264/H.265+/H.264+
Sub-stream: H.265/H.264/MJPEG Third stream: H.265/H.264
*Third stream is supported under certain settings.
Video Bit Rate
32 Kbps to 8 Mbps
H.264 Type
Baseline Profile/Main Profile/High Profile
H.265 Type
Main Profile
H.264+
Main stream supports
H.265+
Main stream supports
Bit Rate Control
CBR/VBR
Scalable Video Coding (SVC)
H.264 and H.265 encoding
Region of Interest (ROI)
1 fixed region for main stream and sub-stream
Network
 
Simultaneous Live View
Up to 6 channels
API
Open Network Video Interface (PROFILE S, PROFILE G, PROFILE T), ISAPI, SDK
Protocols
TCP/IP, ICMP, HTTP, HTTPS, FTP, DHCP, DNS, DDNS, RTP, RTSP, NTP, UPnP, SMTP, IGMP, 802.1X, QoS, IPv4, IPv6, UDP, Bonjour, SSL/TLS, PPPoE, SNMP, ARP
User/Host
Up to 32 users. 3 user levels: administrator, operator and user
Security
Password protection, complicated password, HTTPS encryption, IP address filter, Security Audit Log, basic and digest authentication for HTTP/HTTPS, TLS 1.1/1.2, WSSE and digest authentication for Open Network Video Interface
Network Storage
MicroSD/SDHC/SDXC card (256 GB) local storage, and NAS (NFS, SMB/CIFS), auto network replenishment (ANR) Together with high-end Hikvision memory card, memory card encryption and health detection are supported.
Client
iVMS-4200, Hik-Connect, Hik-Central
Web Browser
Plug-in required live view: IE 10+ Plug-in free live view: Chrome 57.0+, Firefox 52.0+ Local service: Chrome 57.0+, Firefox 52.0+
Image
 
SNR
≥ 52 dB
Day/Night Switch
Auto, Schedule
Image Enhancement
BLC, HLC, 3D DNR
Image Parameters Switch
Yes
Image Settings
Rotate mode, saturation, brightness, contrast, sharpness, gain, white balance adjustable by client software or web browser
Interface
 
On-board Storage
Built-in micro SD/SDHC/SDXC slot, up to 256 GB
Hardware Reset
Yes
Communication Interface
1 RJ45 10 M/100 M self-adaptive Ethernet port
Event
 
Basic Event
Motion detection (human and vehicle targets classification), video tampering alarm, exception
Smart Event
Scene change detection
 
Deep Learning Function
Face Capture
Yes
Perimeter Protection
Line crossing detection, intrusion detection, region entrance detection, region exiting detection
General
 
Linkage Method
Upload to NAS/memory card/FTP, notify surveillance center, trigger recording, trigger capture, send email
Firmware Version
V5.5.112
Web Client Language
33 languages English, Russian, Estonian, Bulgarian, Hungarian, Greek, German, Italian, Czech, Slovak, French, Polish, Dutch, Portuguese, Spanish, Romanian, Danish, Swedish, Norwegian, Finnish, Croatian, Slovenian, Serbian, Turkish, Korean, Traditional Chinese, Thai, Vietnamese, Japanese, Latvian, Lithuanian, Portuguese (Brazil), Ukrainian
General Function
Anti-flicker, heartbeat, mirror, privacy mask, flash log, password reset via email, pixel counter
Software Reset
Yes
Storage Conditions
-30 °C to 60 °C (-22 °F to 140 °F). Humidity 95% or less (non-condensing)
Startup and Operating Conditions
-30 °C to 60 °C (-22 °F to 140 °F). Humidity 95% or less (non-condensing)
Power Supply
12 VDC ± 25% PoE: 802.3af, Class 3
Power Consumption and Current
12 VDC, 0.5 A, max. 6 W PoE (802.3af, 36 V to 57 V), 0.25 A to 0.15 A, max. 7.5 W
Power Interface
Ø 5.5 mm coaxial power plug
Camera Dimension
215.2 mm × 78.8 mm × 78.6 mm (8.5" × 3.1" × 3.1")
Package Dimension
315 mm × 137 mm × 141 mm (12.4" × 5.4" × 5.6")
Camera Weight
Approx. 695 g (1.5 lb.)
With Package Weight
Approx. 1090 g (2.4 lb.)
Approval
 
EMC
FCC SDoC (47 CFR Part 15, Subpart B); CE-EMC (EN 55032: 2015, EN 61000-3-2: 2014, EN 61000-3-3: 2013, EN 50130-4: 2011 +A1: 2014); RCM (AS/NZS CISPR 32: 2015); IC VoC (ICES-003: Issue 6, 2016); KC (KN 32: 2015, KN 35: 2015)
Safety
UL (UL 60950-1); CB (IEC 60950-1: 2005 + Am 1: 2009 + Am 2: 2013, IEC 62368-1: 2014); CE-LVD (EN 60950-1: 2005 + Am 1: 2009 + Am 2: 2013, IEC 62368-1: 2014); LOA (IEC/EN 60950-1)
Environment
CE-RoHS (2011/65/EU); WEEE (2012/19/EU); Reach (Regulation (EC) No 1907/2006)
Protection
IP67 (IEC 60529-2013)
This camera:
This is the ultimate ColorVu camera (read more about the ColorVu concept below). It has a canon of good light sensitivity and 40 meters of self-lighting. Note that in the ColoVu series, the light is visible, white light. The camera is simply connected to a PoE switch, PoE injector, 12v power supply or a recorder with PoE outputs. The camera has a 1 / 1.8 "Progressive Scan CMOS image sensor - that's good;)
But it does not end here, for generation 2, DS-2CD2047 G2 -L, means that the camera also has some pretty cool analyzes that come standard and are free to use. The analyzes include classification of people and vehicles, also known from AcuSense. (If you want this feature but without visible light, look at AcuSense cameras ).
Lens

Horizontal angle
(Horizontal)
Vertical angle
(Vertical)
Diagonal angle
(corner to corner)
2.8 mm
112 °
61 °
134 °
4 mm
95 °
51 °
115 °
6 mm
58 °
31 °
69 °
The advantage of ColorVu
The ColorVu series is one of the best camera series for the price. What makes the surveillance camera different from other cameras is the light sensitivity, which is absolutely wildly impressive. Unlike conventional surveillance cameras, the camera's self-illumination is visible where it is IR on others (InfraRød approx. 850nm.). The visible light makes the cameras draw attention to themselves, as the light jumps into the eyes and therefore has a very preventive effect. Another advantage of the visible white light is also that they can act as extra light on the building.
Continued after the video ...

You can see the difference between ColorVu and alm. cameras here
Pssst ... if you want to know much more about the ColorVu series, read here: https://www.hikvision.com/europe/core-technologies/low-light-imaging/colorvu/
Accessories and extras
If you have nothing for the camera in advance, consider these things:
Power:

Hard disk recorder (budget solution, primarily for use on phone / tablet):
Hard disk recorder (pro solution, fast powerful and suitable for use and handling on local screen):

SD card (for stand-alone or backup if the hard disk recorder is disconnected)
Assembly
The camera can be mounted in all directions, both "upside down" where the camera is mounted e.g. in overhang or ceiling, side-facing, where the camera is mounted on a vertical wall and slanted, on skewed and sloping surfaces.
If the camera is not mounted on a surface where the joint can be on the "other side", a bracket should be considered, see the picture below: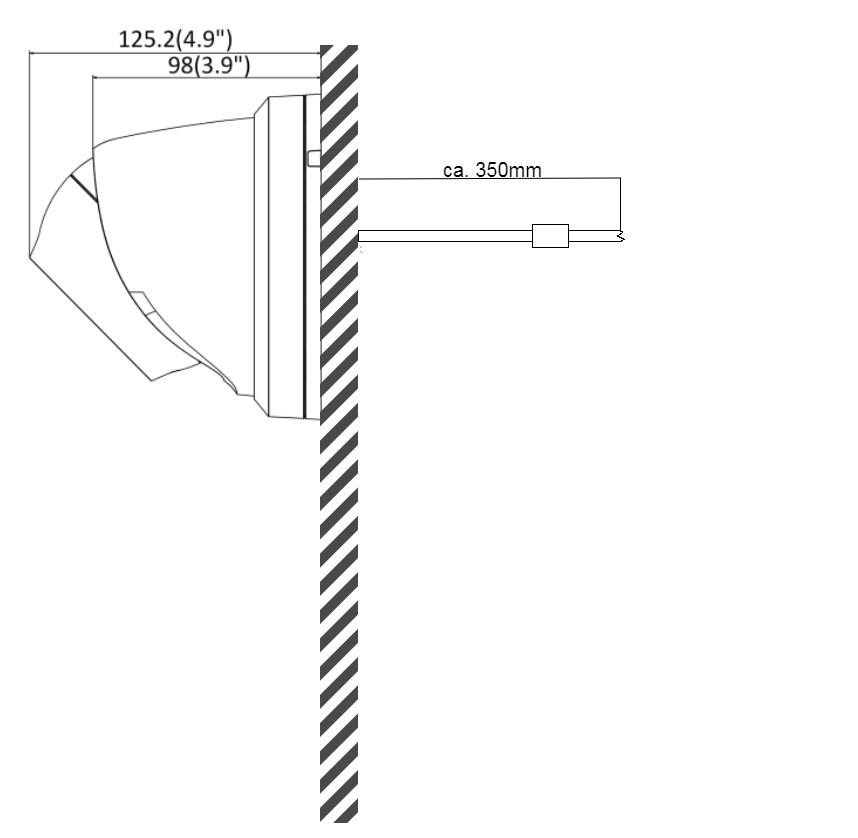 The image is used as an example of the cord and mounting surface, NOT camera shape
If the "tail" of the camera can be on the other side of the mounting surface as shown above, then no bracket is needed.