Hikvision DS-2CD2T47G2-L 4MP ColorVu PoE
Availability:
In stock with extended delivery time
Et rigtig godt valg til udendørsbrug hos erhverv og lagere.
Med dens 4 MegaPixel billedesensor leverer kameraet et rigtig godt billede.
ColorVu giver farvebillede hele døgnet rundt med indbygget hvide LED hvis lysforholdet bliver for dårligt.
Få fjernet de fleste ubetydelige optagelser ved klassificering af mennesker og køretøjer
Kan tilgås fra både smartphone, PC og tablet gennem appen Hik-Connect.
Understøtter Dansk, Svensk, Norsk, Tysk og Engelsk sprog.
Camera
 
Image Sensor
1/1.8" Progressive Scan CMOS
Min. Illumination
Color: 0.0005 Lux @ (F1.0, AGC ON), B/W: 0 Lux with white light
Shutter Speed
1/3 s to 1/100,000 s
Slow Shutter
Yes
P/N
P/N
Wide Dynamic Range
130 dB
Angle Adjustment
Pan: 0° to 360°, tilt: 0° to 90°, rotate: 0° to 360°
Lens
 
Lens Type
Fixed focal lens, 2.8, 4, and 6 mm optional
Iris Type
Fixed
Lens Type & FOV
2.8 mm, horizontal FOV 112°, vertical FOV 61°, diagonal FOV 134°
4 mm, horizontal FOV 95°, vertical FOV 51°, diagonal FOV 115°
6 mm, horizontal FOV 58°, vertical FOV 31°, diagonal FOV 69°
Depth of Focus
2.8 mm, 2.5 m to ∞ 4 mm, 3.5 m to ∞ 6 mm, 7.5 m to ∞
Aperture
F1.0
Lens Mount
M16
DORI
 
DORI
2.8 mm, D: 58 m, O: 23 m, R: 11 m, I: 2 m
4 mm, D: 77 m, O: 30 m, R: 15 m, I: 7 m
6 mm, D: 115 m, O: 45 m, R: 23 m, I: 11 m
Illuminator
 
Supplement Light Type
White Light
White Light Range
60 m
Smart Supplement Light
Yes
Video
 
Max. Resolution
2688 × 1520
Main Stream
50 Hz: 25 fps (2688 × 1520, 1920 × 1080, 1280 × 720)
60 Hz: 30 fps (2688 × 1520, 1920 × 1080, 1280 × 720)
Sub-Stream
50 Hz: 25 fps (640 × 480, 640 × 360)
60 Hz: 30 fps (640 × 480, 640 × 360)
Third Stream
50 Hz: 10 fps (1920 × 1080, 1280 × 720, 640 × 480, 640 × 360)
60 Hz: 10 fps (1920 × 1080, 1280 × 720, 640 × 480, 640 × 360)
*Third stream is supported under certain settings.
Video Compression
Main stream: H.265/H.264/H.265+/H.264+
Sub-stream: H.265/H.264/MJPEG Third stream: H.265/H.264
*Third stream is supported under certain settings.
Video Bit Rate
32 Kbps to 8 Mbps
H.264 Type
Baseline Profile/Main Profile/High Profile
H.265 Type
Main Profile
H.264+
Main stream supports
H.265+
Main stream supports
Bit Rate Control
CBR/VBR
Scalable Video Coding (SVC)
H.264 and H.265 encoding
Region of Interest (ROI)
1 fixed region for main stream and sub-stream
Network
 
Simultaneous Live View
Up to 6 channels
API
Open Network Video Interface (PROFILE S, PROFILE G, PROFILE T), ISAPI, SDK
Protocols
TCP/IP, ICMP, HTTP, HTTPS, FTP, DHCP, DNS, DDNS, RTP, RTSP, NTP, UPnP, SMTP, IGMP, 802.1X, QoS, IPv4, IPv6, UDP, Bonjour, SSL/TLS, PPPoE, SNMP, ARP
User/Host
Up to 32 users. 3 user levels: administrator, operator and user
Security
Password protection, complicated password, HTTPS encryption, IP address filter, Security Audit Log, basic and digest authentication for HTTP/HTTPS, TLS 1.1/1.2, WSSE and digest authentication for Open Network Video Interface
Network Storage
MicroSD/SDHC/SDXC card (256 GB) local storage, and NAS (NFS, SMB/CIFS), auto network replenishment (ANR) Together with high-end Hikvision memory card, memory card encryption and health detection are supported
Client
iVMS-4200, Hik-Connect, Hik-Central
Web Browser
Plug-in required live view: IE 10+ Plug-in free live view: Chrome 57.0+, Firefox 52.0+ Local service: Chrome 57.0+, Firefox 52.0+
Image
 
SNR
≥ 52 dB
Day/Night Switch
Auto, Schedule
Image Enhancement
BLC, HLC, 3D DNR
Image Parameters Switch
Yes
Image Settings
Rotate mode, saturation, brightness, contrast, sharpness, gain, white balance adjustable by client software or web browser
Interface
 
On-Board Storage
Built-in micro SD/SDHC/SDXC slot, up to 256 GB
Reset Key
Yes
Ethernet Interface
1 RJ45 10 M/100 M self-adaptive Ethernet port
Event
 
Basic Event
Motion detection (human and vehicle targets classification), video tampering alarm, exception
Smart Event
Scene change detection
Deep Learning Function
 
Face Capture
Yes
Perimeter Protection
Line crossing detection, intrusion detection, region entrance detection, region exiting detection
General
 
Linkage Method
Upload to NAS/memory card/FTP, notify surveillance center, trigger recording, trigger capture, send email
Firmware Version
V5.5.112
Language
33 languages English, Russian, Estonian, Bulgarian, Hungarian, Greek, German, Italian, Czech, Slovak, French, Polish, Dutch, Portuguese, Spanish, Romanian, Danish, Swedish, Norwegian, Finnish, Croatian, Slovenian, Serbian, Turkish, Korean, Traditional Chinese, Thai, Vietnamese, Japanese, Latvian, Lithuanian, Portuguese (Brazil), Ukrainian
General Function
Anti-flicker, heartbeat, mirror, privacy mask, flash log, password reset via email, pixel counter
Software Reset
Yes
Storage Conditions
-30 °C to 60 °C (-22 °F to 140 °F). Humidity 95% or less (non-condensing)
Startup and Operating Conditions
-30 °C to 60 °C (-22 °F to 140 °F). Humidity 95% or less (non-condensing)
Power Supply
12 VDC ± 25% PoE: 802.3af
Power Consumption and Current
12 VDC, 0.7 A, max. 8.5 W PoE (802.3af, 36 V to 57 V), 0.30 A to 0.18 A, max. 10.5 W
Power Interface
Ø 5.5 mm coaxial power plug
Material
Front cover: metal, back cover: metal
Screw Material
SUS304
Dimension
Ø105 mm × 289.5 mm (Ø4.1′′ × 11.4′′)
Package Dimension
385 mm × 190 mm × 180 mm (15.2" × 7.5" × 7.1")
Weight
Approx. 1170 g (2.4 lb.)
With Package Weight
Approx. 1689 g (3.5 lb.)
Approval
 
EMC
FCC SDoC (47 CFR Part 15, Subpart B); CE-EMC (EN 55032: 2015, EN 61000-3-2: 2014, EN 61000-3-3: 2013, EN 50130-4: 2011 +A1: 2014); RCM (AS/NZS CISPR 32: 2015); IC VoC (ICES-003: Issue 6, 2016); KC (KN 32: 2015, KN 35: 2015)
Safety
UL (UL 60950-1); CB (IEC 60950-1: 2005 + Am 1: 2009 + Am 2: 2013, IEC 62368-1: 2014); CE-LVD (EN 60950-1: 2005 + Am 1: 2009 + Am 2: 2013, IEC 62368-1: 2014); BIS (IS 13252(Part 1): 2010+A1: 2013+A2: 2015); LOA (IEC/EN 60950-1)
Environment
CE-RoHS (2011/65/EU); WEEE (2012/19/EU); Reach (Regulation (EC) No 1907/2006)
Protection
IP67 (IEC 60529-2013)
Dette kamera:
Dette er det ultimative ColorVu kamera (læs mere om ColorVu konceptet længere nede). Det har en kanon god lysfølsomhed, og 60 meters egenbelysning. Bemærk at i ColoVu serien er lyset synligt, hvidt lys. Kameraet tilsluttes blot en PoE switch, PoE injektor, 12v strømforsyning eller en optager med PoE udgange. Kameraet har en 1/1.8" Progressive Scan CMOS billedesensor -det er godt ;)
Men det slutter ikke her, for generation 2, DS-2CD2T47G2-L, betyder, at kameraet også har nogle ret fede analyser, der som standard følger med og er gratis at bruge. Analyserne er bl.a. klassificering af mennesker og køretøjer, som man også kender fra AcuSense. (Vil du have denne funktion, men uden synligt lys, så kig på AcuSense kameraer).
Linse

Horisontal vinkel
(Vandret)
Vertikal vinkel
(Lodret)
Diagonal vinkel
(hjørne til hjørn)
2,8 mm
112°
61°
134°
4 mm
95°
51°
115°
6 mm
58°
31°
69°
Fordelen ved ColorVu
ColorVu serien er en af de bedste kameraserier til prisen. Det der gør, at overvågningskameraet adskiller sig fra andre kameraer, er lysfølsomheden, som er helt vildt imponerende. Kameraets egenbelysning er til forskel fra konventionelle overvågningskameraer synligt, hvor det på andre er IR (InfraRød ca. 850nm.). Det synlige lys, gør at kameraerne gør opmærksom på sig selv, da lyset springer i øjnene og har derfor en meget præventiv effekt. En anden fordel ved det synlige hvide lys er også at de kan fungere som ekstra lys på bygningen.
Fortsættes efter videoen...

Du kan se forskellen på ColorVu og alm. kameraer her
Pssst... vil du vide meget mere om ColorVu serien, så læs her: https://www.hikvision.com/europe/core-technologies/low-light-imaging/colorvu/ 
Tilbehør og ekstra
Hvis du intet har til kameraet i forvejen, skal du overveje disse ting:
Strøm:

Harddiskoptager (budgetløsning, primært til brug på telefon/tablet):
Harddiskoptager (pro-løsning, hurtig kraftig og velegnet til brug og håndtering på lokal skærm):

SD kort (til stand-alone eller backup, hvis harddiskoptageren afbrydes)
Montering
Kameraet kan monteres i alle retninger, både "ovenvendt" hvor kameraet monteres f.eks. i udhæng eller loft, sidevendt, hvor kameraet monteres på en lodret væg og skråt, på skæve og skrå overflader.
Hvis kameraet ikke monteres på en overflade, hvor samlingen kan ligge på "den anden side", bør man overveje et beslag, se nedenstående billede: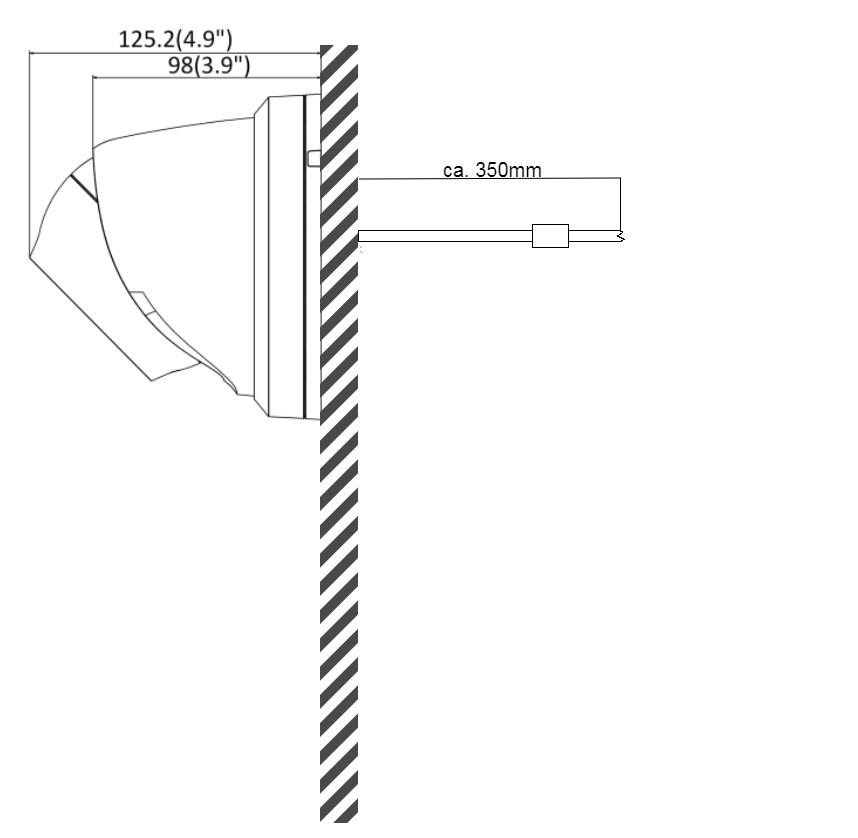 Billedet er brugt som eksempel på ledning og monteringsoverfladen, IKKE kamera form 
Hvis "halen" på kameraet kan være på den anden side af monteringsoverfladen som vist ovenfor, så behøver man ikke beslag.


For more information, please visit this product's webpage.