Hire a technician for 20 min. (not IPcam-shop.dk products)
Get help configuring your equipment purchased even if it is not purchased at Ipcam-shop.
Our skilled and trained technicians will either help you by phone or log in to your system via AnyDesk. Here you can get help with programming the products or setting up the various options the products have.
This can e.g. be...
port opening in your router
setting up rules in the cameras
setting up Hik-connect on your phone
This is done by downloading AnyDesk, which is a small program that gives us access to log in to your computer,
but only when the program is running and only with your consent
.
In order to be able to help you in the best possible way, it will always be a good idea to have the consequences clear:
1: SADP - installed
2: Login to the Recorder and / or camera
3: Login to your router - this is NOT WiFi login
Sådan giver du Adgang ved fravær i AnyDesk
1: Open AnyDesk and press the menu button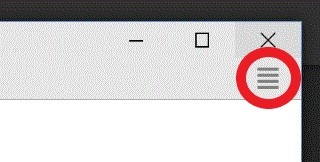 2: Select Security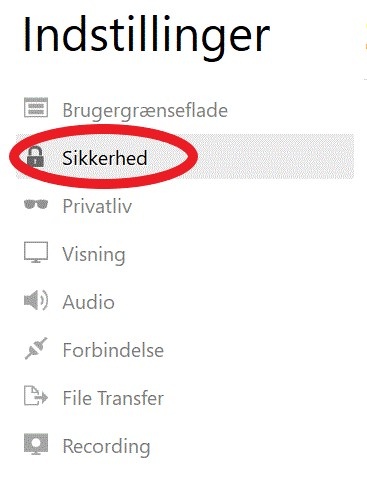 3: Mark Allow unattended access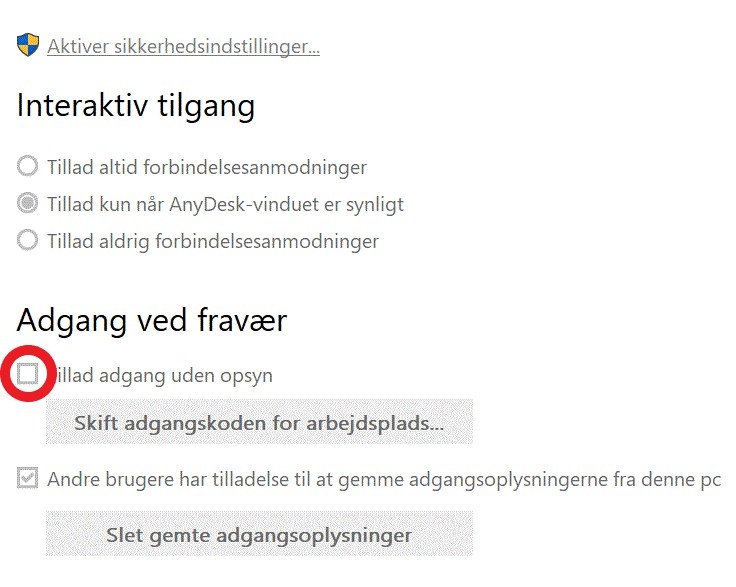 Prepare and get the most for your money.
When you order support, you can prepare yourself and save time and money. Therefore, we have made a list of things you can prepare.
The item includes 20 minutes of technical setup - read more here .
Please note that this product is for products that are NOT purchased at IPcam-shop.dk

Please write in the comment field when you want support (time & date) and what you want help with
All sessions start with the desired "performance" being added to the basket. If you are in doubt about how long it takes, you can either just put 1 in the basket every time the 20 minutes expire, or you can throw several times in the basket, and then we only deduct for the time used.
Pre-purchase support (help with design, location, product selection, etc.)

It can be a good idea to think about requirements and expectations for the plant, price and quality go hand in hand.
A floor plan, preferably ready to send by email, so we can review the possibilities and solutions

After-purchase support (instructions, technical support, installation, setup, code recovery, etc.)

Please have the invoice or order number ready so we can confirm whether the products have been purchased here.
Have your computer ready and preferably with ANYDESK installed if we need to log in via remote support (Download ANYDESK here)
Have codes ready (codes for the equipment to be serviced, eg router, camera, NVR, alarm, login, app store, etc.)
Codes can advantageously be changed temporarily so that our technicians can log in themselves. After the session, they just change again.
This protects both you and us.
It is important for us to provide the best service every day. There you are very welcome to judge the experience on trustpilot - even if you have judged us before. https://dk.trustpilot.com/review/ipcam-shop.dk
If you buy a product without purchasing a technical setup, it is sold as a pure webshop product, and we can therefore not support you, except that we can always refer to the user manual and our free video guides.
If you have bought the products at Ipcam-shop, then you can advantageously choose Remote Support250.